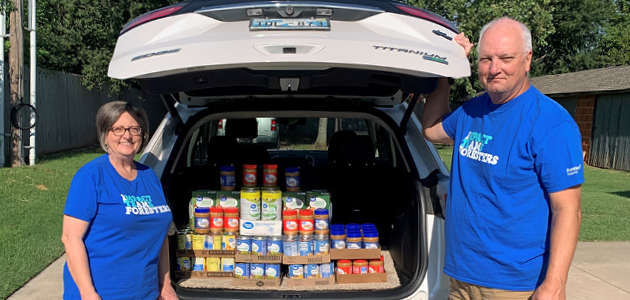 Richard Hennick is a perfect example of what Foresters Financial is all about: giving back and making an impact in our members' communities. It's at the very core of our purpose, and Richard has been embracing that mission since first becoming active with Foresters back in 1989 when he and his wife became members.
After serving his community as a member leader and by volunteering with Foresters for more than three decades, Richard has a strong understanding of exactly what it means to be part of an organisation that gives back and encourages members to get involved in leadership roles.
He has held virtually every position available to members interested in Foresters governance, from Branch Councillor all the way to Regional Vice President. He now takes over as International Fraternal President (IFP). In this role, Richard sits on the fraternal life insurer's Board of Directors, representing the interests of Foresters members across the US, Canada, and the UK.
The Foresters global community of members is more than two-million strong, and it's led by member leaders in a representative form of government. Every member can get involved in our democratic process, through participating in elections or nominating themselves for a leadership role. These leaders provide a guiding hand, helping to focus and support the impact that Foresters makes in our members' communities.
The personal growth that Richard experienced as a Foresters member leader is something he is quick to acknowledge. "The learning, development, and training you get when you're a member leader makes you want to do more both personally and professionally," he says. "Being a leader helped me in my career by giving me confidence and making me want to take on more challenges."
Richard eventually knew he wanted to run for IFP, and began succession planning years ago. But he acknowledges that he's only made it this far thanks to the help of other members, leaders, and staff. "I wouldn't be here without a lot of support," he says. "I'm very thankful to those who supported and encouraged me along the way."

To Richard, the benefits of being a Foresters member are obvious. "The life insurance products are essential, but Foresters offers so much more with these opportunities to give back, and through its other benefits for its members," he says. "Foresters allows its members to decide where and how they want to help. Instead of telling you which causes you can support, they let you decide where you want to make a difference in your own community."
In fact, that's one of the things Richard loves most about being an active member and leader.

"I'm passionate about volunteering and giving back to the community – and about doing it with people who I now consider lifelong friends. I'm able to connect with folks in all three countries, and consider so many of these people close friends, even if we don't see each other in person regularly."

As IFP, Richard plans to continue building on the strong governance system within Foresters, because he knows firsthand how important it is for members to be able to go out into their own communities and provide help exactly where and when its needed.

"The difference with Foresters is that we ask our members, 'How do you want to make a difference?' To me, that's what makes us unlike any other organisation out there."
Welcome aboard, Richard!