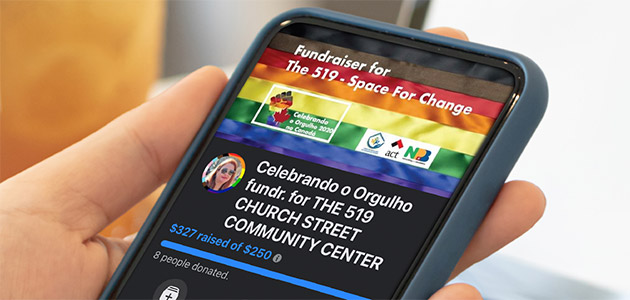 "When I help other people that are in need, I feel that it's my purpose here on earth," says Foresters member Cristiani De Oliveira Dias. Originally from Brazil, Cris moved to Toronto, Canada with her husband in 2018 and got involved with community work with the local Brazilian community and 2SLGBTQ+ advocacy. In 2020, when COVID-19 forced the cancellation of the in-person Toronto Pride Parade, Cris used a Caring Through Crisis (CTC) grant from Foresters to help her community celebrate Pride in a different way.
Cris helped organize a virtual Pride Parade for the local Brazilian and 2SLGBTQ+ communities that she is a part of in Toronto. "I thought about how we could help the more vulnerable people in our community," she says. With COVID-19 safety in mind, Cris and two friends brought Pride to life in a safe, virtual way. "I saw the opportunity to apply for this grant and it was awesome," she says. "I was so happy to get this money to support our community!"
Using funding from Foresters, Cris purchased much-needed essentials including socks, underwear and hygiene products for the The 519, a local organization that supports the 2SLGBTQ+ community in Toronto. This grant also acted as the seed money for a larger Pride initiative organized by Cris and her friends. They ran a 5.5 hour live virtual event with inspirational speakers, education and discussions about inclusion, the job market, mental health in a pandemic and more. More than 2,000 people participated from across Canada, Brazil and beyond. "We built this event to help integrate the community and to talk about mental health due to COVID," she says. "We offered participants two places to donate, if they were able to help a little." The event was linked to a Facebook fundraising activity that encouraged donations to add to the Foresters grant. It was a big success and the group tripled the money from Foresters, sending equal donations to The 519, ACT (Toronto) and Casa Nem (Brazil), all organizations dedicated to local 2SLGBTQ+ communities.
A giving spirit
When Cris moved to Canada from Brazil, she leveraged her background in education and returned to school to study community development. The goal? Engage in community and social projects. "I wanted to better understand the social politics here in Canada," she says. "As an immigrant, I understand the needs and I want my work to focus on helping others, including Brazilian immigrants, to settle and adapt to Canada."
As they organized their financial life after arriving in Canada, Cris and her husband were introduced to Foresters through a financial advisor. "The most important thing for me is that it matches what I'm trying to do," she says. "I think Foresters is trying to provide all the resources to engage in the community and to advocate for the community, but also to bring people together and make sure everyone is doing their part."
Food security for students
As a community development student, Cris' internship included managing a community garden. The harvest was given to students in need. Through educational projects related to the garden, she learned a lot about the food insecurity problems that exist among students. When the college closed due to COVID-19, she heard stories about international students struggling with food shortages.
She applied for a Foresters CTC grant and used the funding she received to purchase fruit, vegetables and other staples for 15 students in need during the pandemic. The students sent Cris stories and photos of themselves cooking with the foods the grant had helped provide. "It was so great to see how we had helped," she says. "I have privileges and I want to share those with others that don't."
A perfect fit
When Cris discovered Foresters, she knew it was a good match for her community spirit. "Foresters is always offering an invitation for people to step up and do their best," she says. "I think this is very valuable — not only providing the resources, but also motivating people."
After moving to Canada, Cris knew that she wanted to get involved in the local community, help people and support other immigrants in their journey. She is now actively doing that through her education, community organizing and giving back. "I understand that Foresters wants us to advocate for ourselves, advocate for our community members and be part of something good," she says. "That helps motivate me to continue doing this." If you are a Foresters members and you want to be part of something good in your local community, visit MyForesters.com to learn more about attending member activities in your neighborhood or applying for grants to organize your own activity.
Foresters Financial member benefits are non-contractual, subject to benefit specific eligibility requirements, definitions and limitations and may be changed or cancelled without notice or are no longer available.
419959 CAN/US (06/21)