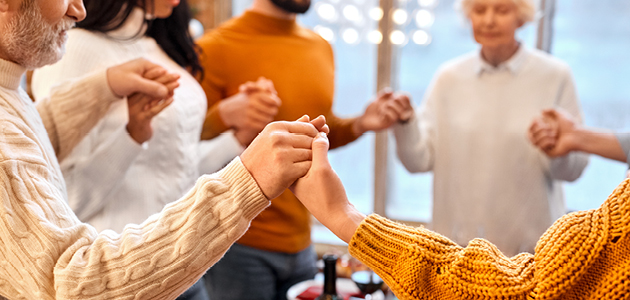 December may usher in colder days and longer nights, but it's also a month filled with many important celebrations, both religious and secular, that bring people together to enjoy cherished traditions, and to rally in support of each other.
This list is by no means exhaustive, but here are some very special events that the friends, family, and neighbors around you may be marking in the coming weeks.
Hanukkah: November 28 – December 6, 2021
This eight-day celebration of light honors the rededication of the Holy Temple in Jerusalem. According to Chabad.org1 , when the Jews went to light the temple's Menorah (a seven-branch candelabrum) after defeating the Greek army, they discovered that there was only enough olive oil to keep the menorah lit for one day—but somehow the oil lasted for eight days. Hanukkah is a celebration of this miracle. Traditional foods associated with this bright and beautiful holiday include potato latkes, doughnuts (Sufganiyot), and applesauce.
World AIDS Day: December 1
An estimated 38 million people around the globe are living with AIDS, and more than 35 million people have died of HIV or AIDS-related illnesses since the virus was discovered in 1984.2 World AIDS day offers an opportunity for people across the globe to join the fight against HIV, to show their support for those living with it, and to remember and honor those who have died.3 According to WorldAidsDay.Org, You can show your solidarity by wearing a red ribbon or donating to the National AIDS Trust, which raises awareness and helps to champion the rights of people living with HIV.
International Day of People with Disabilities: December 3
While it's celebrated annually on December 3, International Day of People with Disabilities is a year-long movement designed to break down barriers to inclusion and advocate for the rights of people living with disabilities.4 It's estimated that over 1 billion people in the world have some form of disability, and more than 100 million of those are children.5 This is a great day to contact your government representatives if you see examples of barriers to inclusion where you live such as inaccessible public buildings, poor lighting, and narrow sidewalks or doorways that can't easily accommodate a wheelchair.
Bohdi Day: December 8
For Buddhists, Bohdi day marks the moment when the Buddha realized enlightenment after six years of searching for peace of mind. In that moment, he became the Buddha, or "the one who is awake."6 In keeping with the peaceful nature of the religion and the Buddha's solitary quest for enlightenment, this day is generally observed quietly with meditation, chanting practices, or simple tea and cookies.7
Yule/Winter Solstice: December 21 – January 1, 2022
Winter Solstice has been celebrated by Indigenous peoples for thousands of years to acknowledge the changing of the seasons and the natural cycles of the earth. For many North American Indigenous peoples, it also launches the "season of storytelling," when dark, cold evenings provide the perfect opportunity to sit together and tell stories that teach traditions and history.8 To learn more about the origin and traditions of the Indigenous peoples on whose traditional lands you live, visit Native Land.
Christmas: December 25
Most scholars agree that Jesus probably wasn't born on December 25 (some say it was May or June, others suggest October), but regardless of his actual birthday, Christmas marks the celebration of the birth of Christ—the man Christians around the world recognize as their savior. Traditions vary from family to family, but in addition to attending church services, families usually gather together to celebrate with a large festive feast complete with traditional desserts like plum pudding or gingerbread. Many Christians (and non-Christians alike) also enjoy the secular tradition of Santa Claus and gift-giving at this time of year.
Kwanza: December 26 – January 1, 2022
This non-religious holiday was created by Professor Maulana Karenga in 1966 as a way for Black families to come together to celebrate their ancestral roots.10 Each day of this beautiful seven-day celebration is dedicated to a different principle: unity, self-determination, collective responsibility, cooperative economics, purpose, creativity, and faith. On the sixth day, a feast called Karamu is held featuring African American, traditional African, Caribbean, and South American dishes.11 If you're interested in exploring these dishes, check out allrecipes, The Daily Meal, and Better Homes and Gardens.
Learning about the many different celebrations and important days to mark in December is a wonderful way to gain a greater understanding of the people and the world around us.
Remember, no matter what you're celebrating this season, if you're a Foresters Financial™ member, you can make the holidays a little more special for a charitable organization you care about with Foresters Care™. This one-time grant of $200 offers a hands-on way to quickly make a positive impact right in your own community. The last day for 2021 applications is December 17, so Visit MyForesters.com to find out more and apply today.
Happy holidays!
SOURCES
1 https://www.chabad.org/holidays/chanukah/article_cdo/aid/102911/jewish/What-Is-Hanukkah.htm
2,3 https://www.worldaidsday.org/about/
5 https://www.un.org/en/observances/day-of-persons-with-disabilities/background
6, 7 https://www.learnreligions.com/bodhi-day-449913
8 https://www.smithsonianmag.com/blogs/national-museum-american-indian/2017/12/20/american-indian-winter-solstice/
9 https://www.livescience.com/42976-when-was-jesus-born.html
10 https://www.cnn.com/2017/12/26/us/kwanzaa-explainer-trnd/index.html
11 https://www.theholidayspot.com/kwanzaa/karamu.htm
420274 CAN/US (12/21)