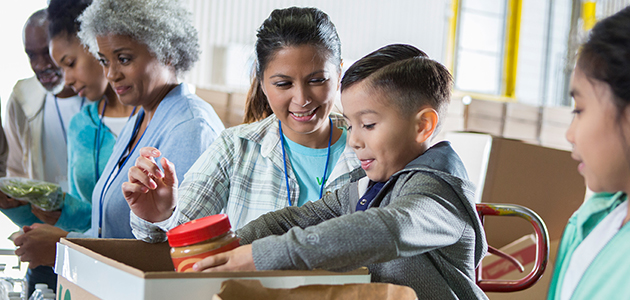 If you're a parent, you probably already know that children watch everything you do. You are their first and most important role model. When you choose to give back to your community by participating in volunteer efforts, you're teaching your children how important it is to make a difference in the lives of others and how good it feels to give back.
If you've never gathered the family to participate in volunteer work together and you'd like to start, Foresters Financial™ can help! We invest time and money to work together to make a difference in our local communities because we believe in enriching lives and building strong communities.
Apply for a Foresters Community Volunteer grant
Foresters Community Volunteer grants allow members to plan local volunteer activities for their families and other Foresters members, creating exciting opportunities – like a Foresters Care Packages activity. Foresters can provide you with up to $2,000 in grant funding, as well as tools and resources to help ensure that your care kit activity is successful. You and your family members could put together hygiene kits for a local homeless shelter or comfort kits for children in crisis, for example.
But the possibilities for using your grant are endless, and we'll help you along the way! Just pick a cause close to your heart and get ready to make a meaningful difference.
You might choose to organize a food drive for a community shelter, replenish a school library, clean up a park or public space, arrange a supply drive for an animal shelter, plant or refurbish a community garden or even host a fundraiser for an organization in need using your grant as seed money.
Remember, it's always a good idea to touch base with a charity you want to support to find out what their greatest needs are. Circumstances can change quickly, so knowing that you're providing them with what they currently require makes your efforts even more appreciated.
Want to learn more before diving in?
To find out more about what's involved in a Foresters grant activity before organizing one yourself, you can attend one being hosted in your area. You'll find out how they work and who they can help – and the incredible difference you and your family can make when you organize an activity of your own!
Family volunteer ideas
If you're making it a family affair, the kind of volunteering you choose will obviously depend upon the age of your children. Consider their attention span and stamina when choosing a volunteer activity, whether it's through Foresters or one you do on your own, and make sure your kids understand what you're doing, why you're doing it and who you'll be helping so that they can become as invested as you are in the process.
Help out at a shelter or soup kitchen. Families often volunteer to serve meals on Thanksgiving Day, but there is a year-round need for help at shelters and soup kitchens. Contact your local organizations to find out if you and your family can be of service, but make sure to ask if there are age restrictions.
Get crafty. There are countless local organizations that collect handmade items to give to charity. Hats, scarves, blankets, chemo caps, prayer shawls and infant loss items are always in demand. If you're crafty and your children are old enough, look up organizations near you that are accepting handmade items, then choose some projects and work on them together. If you're not great with a hook or needles, these no-sew fleece blankets are perfect for almost all ages and skill levels.
Donate gently used items. Many charitable organizations accept donated clothes, books and small household items in good condition. Go through every room in your house as a family and see what items you can find to donate to those in need. Winter coats and boots that are too small are particularly great to donate.
Clean up. Take the family out for a walk around your neighborhood armed with trash bags and gloves, and clean as you go! Make sure your children understand that needles and broken glass are dangerous and ask them to look for paper, wrappers, plastic cups, and other garbage instead.
Volunteering will change your lives and the lives of those who are receiving your help. Teaching your children how important it is to focus on giving back is a lesson that will serve them for the rest of their lives as they carry on the giving tradition for years to come.
For more information on how Foresters can help you and your family give back, you can email engagement@Foresters.com or visit MyForesters.com.