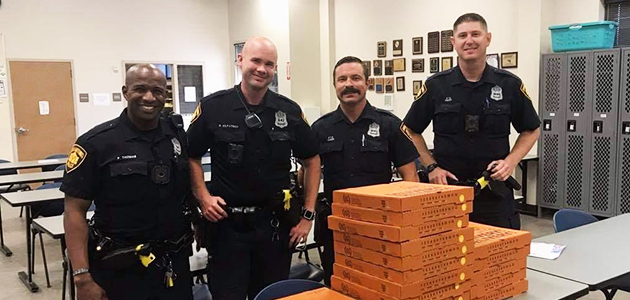 In response to the global pandemic, Foresters launched a temporary Caring Through Crisis Grant to help members who want to give back in their communities during this time. The Caring Through Crisis Grant offers funding of up to $250 (in local currency) to help make meaningful and relevant impact by organizing safe, contact-free activities to individuals or local communities affected by the COVID-19 crisis.
How have members risen to the challenge?
In San Antonio, Miranda C., put her $250 grant towards a two-fold goal, thanking 171 first responders in her community who do so much to keep residents safe by treating them with a pizza meal and to support a local restaurant, closed to the public due to COVID-19.
For Laura M., applying for a Caring Through Crisis Grant was the first time she experienced a Foresters Community Involvement Grant activity.. Laura used her grant funds to supply a food bank in Dearborn, Michigan with boxes filled with much-needed staples including peanut butter, pasta, canned tuna and soups, baking mixes, jelly, pasta sauce, and breakfast cereal that will be given to 24 families in the area.
High school student Justin B., son of a Foresters member, used a 3D printer and Caring Through Crisis Grant funds to make over 400 ear guards to donate to frontline healthcare workers in hospitals, long-term care homes, and health agencies in their community of Windsor-Essex, Ontario.. The ear guards make the face masks that have become required Personal Protective Equipment (PPE) in these environments more comfortable to wear for long stretches at a time.
Left: David with his donations. Right: Justin with a 3D printed ear guard
Toronto member, David H., saw a need in a very vulnerable area of the City and decided to make a donation to a local community food bank using his Caring Through Crisis Grant.
After doing some research, Alicia H., decided to use her $250 grant to purchase 65 KN95 masks for healthcare workers in hard hit areas of the United States. She split the masks between the BronxCare Hospital in New York, and Grady Memorial Hospital in Atlanta, Georgia. As an added bonus, Alicia was able to support local by purchasing the masks from a small business near her home in Los Angeles.
We are so grateful for Miranda, Laura, Jeremie, David, Alicia and all members who are staying engaged and making a difference in their local communities while physically distanced during this crisis with the support of a Caring Through Crisis Grant.
If these stories have inspired you to want to give back and thank frontline workers, create boredom-busting activity kits for seniors or children in need, or to support others through your local food bank or shelter, for example, visit here to find out more and to apply for a funding grant of up to $250 (local currency).
Foresters Financial member benefits are non-contractual, subject to benefit specific eligibility requirements, definitions and limitations and may be changed or cancelled without notice.
417953F CAN/US 06/20