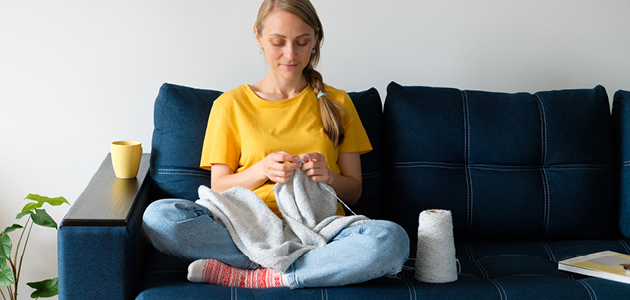 The holidays are a wonderful time to give to family and friends, but it's also nice to think about giving to the community in need around us. That might be donations of goods or money – but it could also be your time and energy, which is every bit as valuable.
If you and your family are looking for ways to reach out and give back this holiday season, the following ideas might give you some inspiration as you plan your giving.
Do a walk or run to support a charity that's important to you. Holiday-themed "elf runs" and "Santa shuffles" have become popular at this time of year, and some of them are even held virtually so you can walk, run, cycle, stroll or roll anywhere you want. Do a quick search for "holiday charity runs" in your area to see what's happening near you. Many charities, like Humber River Hospital Foundation in Toronto and Birmingham Children's Hospital Charity in the UK also allow you to create a fundraising page on their websites and raise money any way you choose during the holidays and all year long. Check out the websites of your favourite charities to see if this is an option.
Pay someone a visit. Sadly, there are seniors in nursing homes who don't receive visitors because they have no family or their family lives far away – and it's particularly difficult to be alone during the holidays. Check with your local nursing home to find out if they are allowing visitors, and if they are, ask if there's someone who could use a visit and some extra holiday cheer this season.
Drop off some holiday cheer. Many people have no choice but to work during the holidays. If you know someone who will be spending the holidays at work serving others, drop off treats for them and their co-workers to show that you appreciate the hard work they do.
Make a donation instead of giving a gift. If the adults in your family all agree, instead of giving each other gifts, make donations to charities that you each care about. You can still make the charitable giving part of your present-opening festivities by wrapping up the donation notices and sharing the charities that your family has supported as you open your "gifts."
Use your talents. If you're a great cook, sing like an angel or enjoy knitting, find a way to incorporate those strengths into an act of service for someone in need. You might sing carols at a nursing home, knit a scarf to donate to a homeless shelter or volunteer your time at a soup kitchen making meals for those who are hungry.
Host a holiday food drive. Ask friends, family and neighbours to drop off non-perishable food and hygiene items (toothpaste, deodorant and feminine products) at your home that you can take to your local food bank or homeless shelter. Foresters Financial members can use a £200 Foresters Care grant to help fund and plan a food drive or another meaningful activity that helps those in need.
Make your holiday cards do double duty. If you send out cards during the holidays, buy ones that support a charity, like these from ActionAid, a charity that's helping to change the lives of women and girls all over the world. That way a purchase you were going to make anyway can make an even bigger impact.
Help Santa reach children living in poverty. Take a new and unwrapped gift to one of the UK's Mission Christmas drop off points, donate cash or gifts online. Your support will mean that a child at risk of waking up to nothing on Christmas Day will have something to open.
Be an angel for someone. If there's a friend, family member or neighbour who has trouble getting out and lives alone, offer to run errands for them or take care of things around their home they may not have been able to manage, like changing lightbulbs in the ceiling or fixing loose handrails.
Wrap it up! If you're an excellent present wrapper, volunteer to wrap presents at your local shopping center. Many charitable organisations raise money by offering gift-wrapping services during the holidays, and they are always in need of talented wrappers to help them get the job done.
Once you get into the holiday spirit, it's sometimes hard to get out of it – and that's a good thing when it puts you in the giving mood! Since the holidays mark the start of colder weather, here are 10 great ways to help your community during the winter months, and a list of ways to help someone alone during the holidays – but because people get lonely throughout the year, you can use these ideas all year long.
Happy giving!