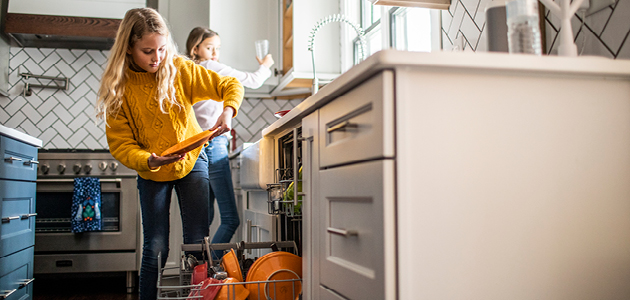 Sure, everyone loves a clean and tidy house. But do you love spending precious time on the weekend vacuuming, dusting and cleaning toilets? Probably not.
For people who work a regular 9-5 weekday schedule, weekends should be for relaxing and recharging, not doing even more work.
The solution? Spend about 20 minutes a day during weekdays to tackle some household cleaning. That hour and 40 minutes of effort during the week should result in a clean house by the weekend.
What you choose to do with your free time on Saturday and Sunday is up to you, but if you're a Foresters Financial member, you could focus on yourself by completing a Foresters Go challenge or maybe organise a Community Volunteer or Foresters Care activity and give back in your community!
Your 20-minutes-a-day cleaning schedule
Apartment Therapy1 has worked out a plan that involves tasks you do every day and ones you do just once a week.
Daily chores (which could become habits and are not part of your 20-minutes of cleaning), include:
Wiping down wet bathroom counters
Squeegeeing shower doors, walls and floors (after each shower)
Washing your dishes (or loading up the dishwasher) after each meal
Sweeping or vacuuming the kitchen floor and other areas with heavy daily traffic
Putting everything back where it belongs when you leave a room (cushions, remotes, piles of post, purses, backpacks etc.) so your spaces stay tidy
Wiping down kitchen counters
Wiping your kitchen table after each meal
Once-per-week chores (spend up to 20 minutes a day on one or a combination of these tasks) include:
Dusting furniture
Vacuuming carpets
Wiping glass and mirrors in the bathroom and other areas of your home
Cleaning your bathroom counters and toilets
Cleaning out the fridge
Deep cleaning kitchen appliances
Deep cleaning bathrooms (showers, sinks, bathtubs, floors and fixtures)
Doing laundry, as needed (but make sure to complete the cycle by folding and putting away each load!)
How to make it all happen
Having a house that's relatively presentable all the time without having to lose your entire weekend to cleaning is great! But make sure you're not the only one putting in all the work. Spouses and kids can, and should, pitch in. Designate age-appropriate tasks for children and jobs for other adults in your home, and make sure everyone sticks to the plan.
If a chore chart works for the people in your home – adults and kids alike – don't hesitate to use them! They act as good reminders and are a great way to keep everyone accountable.
Need more inspiration? Check out Bubbles and Buckets on Instagram for videos on everything from keeping mirrors streak-free and dealing with pet hair to deep cleaning your toilets. Or visit Good Housekeeping for 50 cleaning tips that will make your house look like new.
SOURCES
1 https://www.apartmenttherapy.com/this-20-minute-daily-clean-routine-will-give-you-your-weekends-back-247491