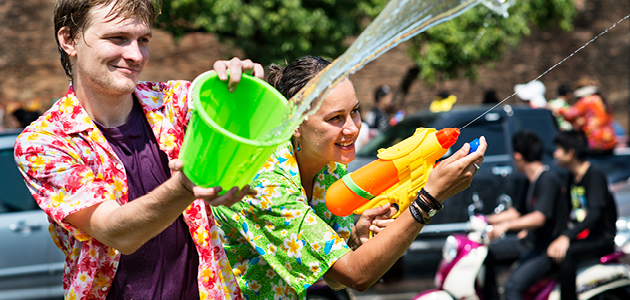 When we think of classic New Year's traditions, making resolutions, celebratory toasts, kissing at midnight or exchanging gifts typically come to mind. But those are just some of the many ways people around the world ring in the new year.
In the spirit of a fresh start and with 2023 ahead of us, let's explore some New Year's traditions from countries across the globe. Who knows? They might inspire you to change things up and start the new year with a different tradition of your own.
South America
People in Ecuador traditionally build life-sized paper dolls to represent past misfortunes.1 At midnight on January 1, the dolls are burned to help rid the new year of any bad luck from the previous year. It's also custom to jump over the burning effigy, typically 12 times to bring good luck each month.
As far as New Year's traditions go in Haiti, soup joumou is one of the most popular. Every January 1, most Haitians make and eat soup joumou to celebrate the country's independence victory from France on the same date in 1804.2 The soup typically has pasta, potatoes, celery and marinated beef. The New York Times has a fantastic soup joumou recipe if you want to try making it this new year.
Europe
On January 1, Greeks celebrate the feast of Saint Basil and New Year's Day.3 During this celebration, one of the things Greeks do is bake a cake called Vasilopita. While preparing the cake, it's tradition to put a coin into it and serve it to everyone present. Whoever gets the coin slice is said to have good luck for the coming year. If you want to start this new year by doing a little baking, here's a recipe for a traditional Vasilopita cake you can make at home.
In Romania, there is an ancient New Year's Day tradition called Sorcova that involves wishing loved ones good luck and health for the coming year.4 Sorcova is also the name of the stick or branch people gently tap others with as they wish them well during the celebration. These good wishes are often sung in carols when ringing in the new year.
Asia
Like the other countries on this list, Japan has plenty of New Year's traditions that range from more traditional to modern. We'll take a look at two: Fukubukuro and Hatsuhinode. Fukubukuro are surprise gift bags given to friends and family during the new year. The contents of each gift bag depend on where you buy them, but most retailers give people an idea of what they can get in their bags.5 Hatsuhinode, on the other hand, is more of a peaceful tradition. It involves getting up early and seeing the first sunrise of the year.
Thailand's traditional new year celebration takes place in April and is called Songkran. Songkran is also known as the Water Splashing Festival or the start of the Buddhist New Year. It involves parades, dancing and splashing people with water while celebrating on the streets.6
Africa
The suburb of Hillbrow in South Africa has an unusual New Year's Eve tradition that involves tossing old furniture out the windows of houses and apartments. This tradition dates back to the 1990s and is seen as a way to inspire new beginnings and help refresh your home for the next 12 months.7
Starting your own traditions
After looking at some of these New Year's customs from different cultures, maybe, you'll try something a little different this year – and we can help you with that. Whether you want to do more for others or bring the people you care about together to kick off the new year, you got some options as a Foresters member.
Looking to start the new year by doing a little good? Foresters members have access to our Community Volunteer or Foresters Care grants to give back to people and communities in need.
The Community Volunteer grant gives you up to £2,000 in local currency to organise a volunteer activity to give back in ways like:
Packing Hygiene kits for a local shelter or school supply bags for in-need students (or you can use the First Aid kit option)
Pack easy to prepare meal bags for children with food insecurity
Creating no-sew blankets for a children's hospital or senior center
Refurbishing a park by planting new flowers, spreading fresh mulch and constructing a picnic table
With the Foresters Care grant, you get up to£200 in local currency to make a quick difference in your community like:
Putting together a care package to support your favourite charity
Purchasing and donating back-to-school supplies to children
Providing frontline workers with food and other supplies
We also have our new Foresters Moments benefit. With it, you get funds to spend time and reconnect with friends, family and other Foresters members over fun outings. Getting started is easy, apply for the grant, choose your activity from our five activity categories, invite people and start connecting with each other while Foresters helps cover the costs.
With Foresters Moments, you can host fun activities like:
Learning a new skill like woodworking or cooking
Taking a dance fitness or family yoga class
Visiting a local farm, having a drive-in movie night or taking the kids to an indoor playground.
Login to MyForesters now for more information about these benefits, and start planning your New Year's tradition!
SOURCES
1 https://ecuador.travel/en/heritage-festivities/
2 https://www.ajc.com/things-to-do/atlanta-winter-guide/new-year-traditions-hold-special-meaning-for-haitian-colombian-immigrants/YH5P7WCKCJFSNH7GHYUPQJ3MTQ/
3 https://greekreporter.com/2021/12/30/saint-basil/
4 https://www.romaniajournal.ro/spare-time/romanian-new-years-traditions-and-customs/
5 https://en.japantravel.com/guide/the-fun-of-fukubukuro/68230
6 https://www.wanderlust.co.uk/content/your-introduction-to-songkran/
7 https://www.thesouthafrican.com/news/hillbrow-new-year-throw-furnite-why-tradition/