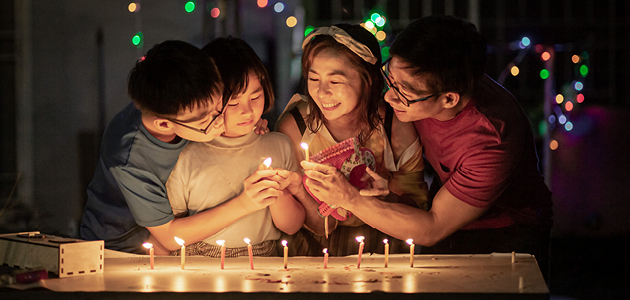 Many of us tend to think of Thanksgiving as being a uniquely North American tradition. Even though the U.S. And Canada celebrate the holiday on different days and have slightly different origins, the elements of American and Canadian Thanksgiving are similar: big dinner, lots of family, and maybe a football game on the tube.
But you might be surprised to know that North Americans haven't actually cornered the market on holidays focused on food and gratitude. In fact, versions of Thanksgiving are celebrated all around the world. Giving thanks for abundance, particularly during times of harvest, is a common tradition in many cultures.

In China, Taiwan, and Vietnam, the Mid-Autumn Festival, also called the Moon Festival or the Mooncake Festival, is celebrated in September or early October.1 Families mark the holiday by gathering together for a special dinner, lighting and displaying lanterns, and eating mooncakes – a moon-shaped cake filled with a sweet and delicious paste. Ceremonies are also held to give thanks for the harvest and to encourage sunlight in the upcoming year.2
Sukkot, a week-long Jewish celebration in September, has its origins in an ancient autumnal harvest festival. While it has come to commemorate the wandering of the Israelites in the desert after escaping from slavery in Egypt, many of the rituals and the holiday's imagery still revolve around rejoicing and thanking God for the completed harvest.3 Kreplach, a traditional dumpling filled with a meat, egg, and onion mixture, is traditionally eaten on the seventh day of Sukkot. During the rest of holiday, Jews enjoy a mixture of all their favorite traditional foods including challah, gefilte fish, and matzo ball soup.
Celebrated in January or February, Pongal Festival is a four-day-long harvest celebration in the state of Tamil Nadu in Southern India. Held after harvesting crops like rice, sugarcane, and turmeric, this thanksgiving festival is held to thank the Sun god and Lord Indra for helping farmers produce bountiful crops.4 If you want to try some of the delicious foods associated with this festival, visit Dassana's Veg Recipes for 46 delectable main dishes and sweets.

Whether you are celebrating or not here are some wonderful ways to show gratitude for the bounty in your life during this harvest season and all year long:
Say thank you. Thank the people in your life who have made a difference along the way. Write a note or give them a call and let them know how their presence in your life has enriched it.
Write it down. Having a gratitude journal is a powerful way to remind yourself of all you have to be thankful for, especially on hard days when giving thanks might be the furthest thing from you mind. At the end of every day, jot down at least three things that happened for which you are grateful. Noticing the positive things in your life will eventually become a habit if that's what you intentionally focus your attention on.
Share a meal. If you are lucky enough to have a fridge that's never empty, consider sharing a meal with someone in need. Donate to your local food bank, or pack up a dinner to safely drop off to a friend or neighbour who could use a warm, nourishing meal. Foresters members could also put together care packages with the help of a one-time Foresters Care grant or a Community Volunteer grant. Members can login to MyForesters to find out more and apply today. Applications for 2021 Foresters Care activities must be submitted by 17th December and 22nd October is the deadline to apply for 2021 Community Volunteer grants.
Make a donation. Support a local charity that's important to you and your family by making a donation. Even a few pounds can make a big difference to a small, local charity that doesn't have the budget or staff necessary to organise large special events like charity walks/runs to raise awareness and funds.
Have a thankful dinner. At the beginning of your meal, invite each person to say something kind about every other guest at the table, or to say something about each person that they are thankful for. By the end of this lovely exercise, every person at your holiday table will have had a chance to express their gratitude towards others and to find out what others find special in them.
Volunteer. Foresters Financial Community Volunteer grants and Foresters Care grants offer a hands-on way for members to make a positive impact right in their own communities. Members can visit MyForesters.com to find out more about these community grants that they can use to put together holiday care packages for those in need, as well as many other ways to volunteer with Foresters.
Happy Thanksgiving or however you choose to celebrate.
SOURCES
1 https://www.chinahighlights.com/festivals/mid-autumn-festival.htm
2 https://www.startribune.com/how-cultures-around-the-world-show-gratitude-in-their-ceremonies-of-thanksgiving/565530632/
3 https://www.myjewishlearning.com/article/sukkot-101/
4 https://www.jagranjosh.com/general-knowledge/why-pongal-festival-is-celebrated-1547213907-1