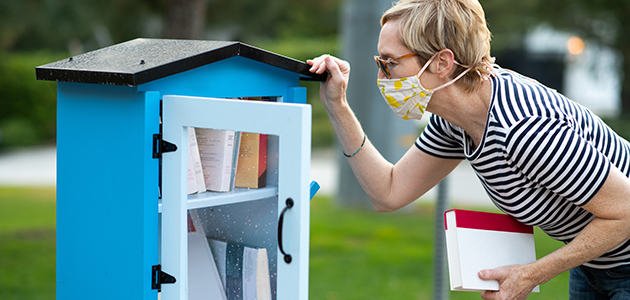 Reading is a year-round activity, but cracking open a good book and sitting outside in the shade to read is a quintessential summer experience.

Little Free Libraries let you share that wonderful experience with those around you in a way that helps build community while giving more people access to books — two pretty incredible ways to make a difference!

What is a Little Free Library?
Little Free Libraries is a worldwide book-sharing movement designed to inspire readers, and a Little Free Library is a free book-sharing box. The idea is to build a small, weather-resistant box with a glass or Plexiglas window that's mounted on a post in your front yard where it has easy access to foot traffic. You can then add books to the box to share with those in your neighborhood.
If you're handy, you can build your own box using free plans featured on the Little Free Library website.
Most Little Free Libraries have a note that explains that the books are free to whoever wants them, and suggests that people pass along the kindness by sharing the books with others, returning them to the little library once they've been read, or replacing the books they've taken with different ones.
You can register your Little Free Library on the organisation's website so it's added to the world map, making it easier for people nearby to find it.
Increasing literacy by providing people with easy access to books is part of the organisation's mission. Most communities are lucky to have public libraries, but there's something charming about strolling down the street to browse books offered by your neighbours. For people without affordable access to books or public libraries, Little Free Libraries are a wonderful solution.

Feeding bodies and minds
It's inspiring to see people respond to needs in their communities by sharing things they have with others.
At Foresters Financial, we help our members make a difference in local communities. Members can also apply for a Foresters Community Grant of up to £2,000 and work collaboratively with family and friends to help people in need by organising a volunteer activity for a charitable organisation that's important to them.
There are so many creative and inspiring ways to reach out and positively impact your community — and there's never been a better time to actively seek out ways to help those around us.