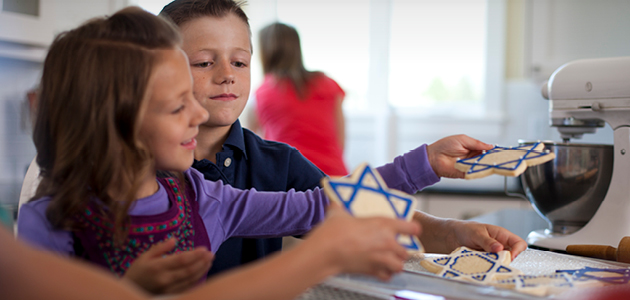 No matter what you celebrate in December, it seems like there's a cookie for it. And not that you ever need an excuse for fresh, warm cookies out of the oven, but Bake Cookies Day is also conveniently nestled smack in the middle of December, so it's the perfect month to fire up the oven and get baking with, and for, the people you love.
Baking is a wonderful way to spend quality time with family and friends, and little ones will never forget those magical moments in the kitchen during the holiday season. Make it even more worthwhile by baking large batches so everyone involved can take home some of the fruits of their labour. Most cookie recipes can be easily doubled or tripled, depending on how many you hope to make.
Classics like big, chewy chocolate chip cookies, the simple and comforting oatmeal cookie  or cinnamon-spiced snickerdoodles are all wonderful options for a family baking day. But if you want to tailor your cookies to the holidays you'll be celebrating, check out these festive recipe ideas:
Hanukkah cookies (18-26 December)
While Hanukkah is traditionally celebrated with foods fried in large quantities of oil (like fritters or doughnuts) in commemoration of the miracle of the oil, adding cookies to the holiday table is a sweet way to add a delicious new tradition to your family gathering. Check out these lovely Hanukkah cookie ideas:
Christmas cookie collections (25 December)
Kwanzaa cookies (26 December)
A sweet Ōmisoka tradition (31 December)
Ōmisoka is a traditional Japanese celebration on the last day of the year. While not technically a cookie, eating Mochi – a patty made with sticky rice that can either be sweet or savoury – is a tradition on that day in Japan. The dough is made of sticky rice and rice or potato flour that's formed into patties, brushed with soy sauce and cooked in a skillet until caramelised. After that, it's topped with sweet or savoury toppings and enjoyed as you ring in the New Year!
Cookies make fantastic gifts – and 'tis the season for giving – so visit Taste of Home for some fun and creative ways to wrap up your cookies and other homemade treats that will make them look as good as they taste. And if you're mailing your cookies to faraway friends and family, check out Taste of Home for foolproof cookie-mailing tips to help make sure your sweet treats arrive safe and sound.
No matter what festive cookies or desserts you decide to whip up this season, enjoy the time spent with family and friends making delicious memories.
For more information on different holidays and traditions celebrated this month – and how Foresters Financial members can help make the season extra bright for those in need – click here.