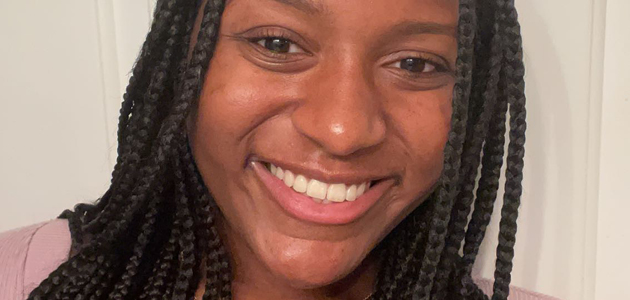 Gianna Glover wants to encourage people to feel more empowered about taking charge of their health and inspire others to help their communities.
This ever-present driving enthusiasm to help others led Gianna to win a 2021 Foresters Competitive Scholarship. She's now using the scholarship to cover tuition costs while studying nursing at the College of New Jersey and following her dream.
"The first nurses were volunteers, they weren't college educated or anything like that, so the basis of nursing is really volunteerism and I feel like that's something I can deeply resonate with."
A life of giving back
"Volunteerism has been a really big integral part of my life growing up." Says Gianna when asked about how she started volunteering. "I've been a Girl Scout since I was in the third grade."
Gianna's love of volunteering continues today. "Now I volunteer at a local soup kitchen that provides not only food to homeless people in Trenton, New Jersey, but resources that will improve their quality of life such as getting government IDs, applying for food stamps and giving them hygiene kits."
Raising awareness for a great cause
Much like Foresters, Gianna's passions are at the forefront of her beliefs and she's taken action to make a difference in people's lives.
While in high school, Gianna organised a breast cancer awareness fair during breast cancer awareness month in October. Taking months to plan, her event involved taking people through different stations with information about breast cancer prevention, identification and treatment.
Her hard work didn't go unnoticed, and her local Girl Scouts council awarded her the Girl Scouts Gold Award, the highest honour offered in the organisation. "When I got my Gold Award, I felt not only amazing about myself … I also felt really thankful for all the help that I got because I couldn't have done this by myself."
Getting the good news
After applying for the scholarship and using her experiences with her breast cancer awareness fair as the highlight of her volunteer efforts, Gianna checked her email and discovered she had earned the Foresters Competitive Scholarship.
"It kind of felt like a weight was lifted off my shoulders because I put in so many applications to all these different scholarships, and to know that I was capable of getting one made me feel amazing."
The hard work and dedication she already put into her everyday volunteering and schooling paid off for her, and now she's able to continue her educational dreams with more peace of mind.
Take a shot because you never know!
"If you're thinking about applying for the [Foresters] scholarship, I 100% recommend doing so. You never know what could happen or how someone could read your application and be moved by it." Says Gianna to the students on the fence.
Foresters Competitive Scholarship not only helps make education more financially viable, but as Gianna mentions, "This scholarship is a great opportunity for students to really showcase themselves."
When it comes to inspiring others to apply, Gianna says it is all about self-reflection, "I like to say, take what you've felt, put it in a ball and just bounce that ball everywhere, bounce it into your next step of education, bounce it with your friends and get them involved in something you're passionate about."
2022-2023 Foresters Competitive Scholarships are still available
Foresters offers up to 75 tuition scholarships in the UK every year to Foresters members and their families. The scholarship provides awards up to £1,000 each year. Students can apply for the scholarship yearly for a total of up to £4,000 over four years of schooling.
The application period for New Applicants ends 27 February 2022, so there is still time to apply!
For more information about the scholarship, please visit our Foresters Competitive Scholarship page. Foresters members looking to apply can do so by logging into MyForesters.