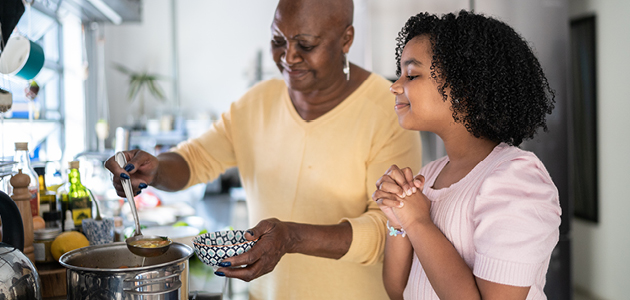 Sometimes getting a healthy, homemade meal on the table at the end of a busy day can be a challenge. On days when you're short on time and energy, you need simple food that you can whip up as fast as it'll be devoured when you put it in front of your hungry family.
Here's some help!
Rethink dinner
You're busy and you're probably tired. You don't have time to spend hours creating an elaborate feast at the end of a weekday—so don't. Sure, you still need to offer something hearty and healthy, but that could be a big bun stuffed with grilled vegetables and your cheese of choice, or a platter of chopped fresh vegetables with a little ranch dip and egg salad sandwiches on the side.
Don't make a fuss. Just make it simple!
Prep in advance
Take a few minutes to prep what you can for the next day's meal before you head off to bed. Wash and chop your vegetables, find all your spices and other pantry ingredients that tend to get shoved to the back of your cupboard, marinate your meat—whatever you can do in advance to help you get your meal in the oven as fast as possible the next day.
Look for one-pot and sheet-pan recipes
Sheet-pan dinners and one-pot meals are fantastic for weeknights because everything usually cooks at the same time, and always in the same pot or pan so there's less cleanup.
Make big batches
When you're cooking things like spaghetti sauce, soups, chili, and casseroles, always double the recipe. Freeze the leftovers and you've got a complete meal ready to pull out of the freezer on a busy day.
Some people even dedicate one or two days per month to making big batch meals that they freeze and put away for future use.
Plan leftovers wisely
When you're shopping and planning your menus, always think about how you might be able to turn leftovers into a second meal later in the week.
For example, if you get a deal on roasting chickens, buy two and cook them at the same time. Use the second chicken the next day for chicken salad sandwiches, or a quick soup. Leftover rice? Fried rice! Leftover mashed potatoes? Potato pancakes! Leftover ham? A quick quiche with a store-bought pie shell.
Put soup on the menu
4th February is National Homemade Soup Day, and you can celebrate by loading up your winter menus with delicious soups from scratch. Not only are soups usually quick and easy to make, but they can also be very nutritious when they're packed with vegetables, lean meat and a hearty broth. Pair them with some crusty bread or a light green salad and you have a cozy and quick evening meal.