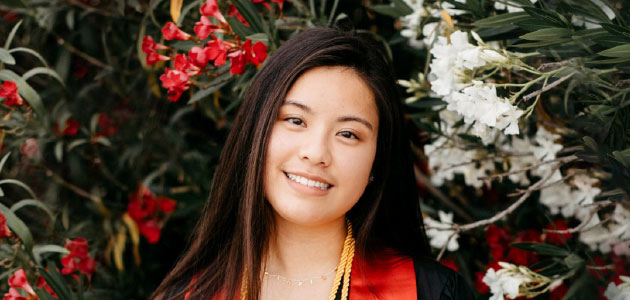 With applications now open for 2021, get inspired by one student's scholarship win and read her advice about the program.
Anjeli Macaranas has a passion for community service. "In the summer during my sophomore and junior years, I went on medical mission trips with a local church," she says. "It was a very, very eye-opening experience." These early volunteering experiences helped shaped Anjeli's vision for a better world and her role in it. Her commitment to giving back also helped her win a 2020 Foresters Competitive Scholarship.
A different kind of scholarship
For Anjeli, the volunteer component of the Foresters scholarship was a real draw. "I definitely love how it's focused towards community service," she says. Now a freshman at Harvard University, she plans to focus on pre-med or global health policy. Her parents both work in healthcare and she is inspired by their hard work and dedication to helping people. They didn't grow up with the same opportunities she did, and to honor that she wants to make the most of her education.
"I really want to continue pursuing that kind of work in the future," she says. "Taking medical mission trips to different countries and learning about how we can best develop different health policies to give attention to the areas that most need it."
As a violinist, Anjeli was able to bridge language and cultural divides through music, as well as service. She brought her violin on mission trips and sharing music was another way to connect with the people she met.
Helping ease the financial burden
Being a student at Harvard is prestigious, but also comes with academic and financial pressures for both Anjeli and her family. "Receiving a scholarship of this amount every single year of college has definitely relieved a lot of this stress," she says.
"I'm very thankful for this opportunity."
Taking control of your future
Anjeli credits her dad for encouraging her to apply for the Foresters scholarship and says she learned a lot through the application process. "Applying for this scholarship has helped me – really narrowing down the goals that I want to pursue in my life and how my education can fit with that," she says. "Even writing the essay helped me to self-reflect."
Her advice to other families? Apply, apply, apply!
"I would definitely encourage your kids to take advantage of this opportunity," she says. "There's no harm in trying and the worst thing that could happen is not receiving it." While the funds are important, the application process is also about being proactive, finding opportunities and taking control of what you want. "I think it's a really great way for your kids to get to know more about themselves, see what their passions are and what kinds of things they want to pursue in the future."
Students, apply today for 2021 scholarships!
Up to 250 scholarships worth $2,000 per year are available to eligible Foresters members and their families (spouse, child, grandchild or a child under legal guardianship). The scholarships are renewable for up to four years, which means recipients can receive up to $8,000 over the course of their schooling. The money can be applied to tuition fees for undergraduate study at any accredited college, university or technical program.
The Foresters Competitive Scholarship program1 is now accepting applications for the 2021 academic year! To be considered, applications must be submitted before February 26, 2021.
The program is an extension of Foresters larger purpose — enriching lives and building stronger communities. Applications are reviewed based on a combination of community service (65%) and academic performance (35%). Applicants are asked to show 40 hours of community service, provide a recommendation letter from someone related to their volunteer work and a personal essay about the impact that giving back has had on them and their community.
The support can help young leaders change the world. "The Foresters Competitive Scholarship has definitely helped me come closer to achieving my dreams of helping people around me," says Anjeli.
If you are a Foresters member and you or someone in your family is heading into post-secondary education, log into MyForesters to check your eligibility and apply.
1Available to eligible members. For eligibility criteria, please visit here. Foresters Competitive Scholarship Program is administered by International Scholarship and Tuition Services, Inc. (ISTS).
Descriptions of member benefits that you may receive assume that you are a Foresters Financial member. Foresters Financial member benefits are non-contractual, subject to benefit specific eligibility requirements, definitions and limitations and may be changed or cancelled without notice.
419531E CAN/US (01/21)