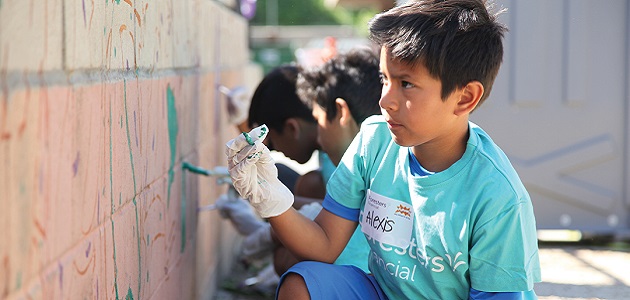 Foresters commitment to the well-being of our members and the communities in which they live is one of the reasons we partnered with KaBOOM!, a non-profit organization dedicated to giving all kids a childhood they deserve filled with balanced and active play.
Since 2006, Foresters and KaBOOM! have built 154 beautiful play spaces in 93 cities across 31 states and provinces throughout North America.
But we certainly didn't do it alone! Thanks to the hard work and dedication of Foresters members, we have been able to positively impact the lives of more than 5 million children by providing them with access to good, old-fashioned play. As an added bonus, those play spaces act as community hubs where parents can meet and connect with neighbors while their children have fun.
Unique play spaces for all
For 2019, Foresters and KaBOOM! are taking their commitment a step further with two new formats:
Sport Court – This four hours activity helps create a soft-tiled playing surface that can be used for multiple games like basketball, tennis, and ball hockey.
Adventure Course – This space has challenge course elements designed to provide a fun and challenging play solution for kids aged 13+. It takes five hours to build!
How can I help?
Register to help for one of our build! We have 5 play space builds and refreshed projects planned over the next months in the following communities:
Sep 21, Montreal, Canada
Sep 14, San Antonio, TX
Oct 12, San Diego, CA
Oct 12, Philadelphia, PA
Nov 23, Kissimmee, FL
To register to help, visit MyForesters.com.