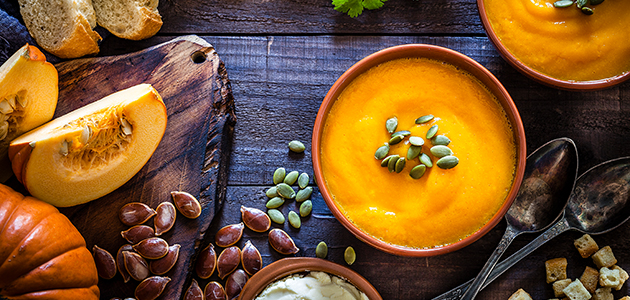 The spookiest night of the year is on its way! It doesn't take much to get kids feeling Halloween-y (spotting that first orange leaf of fall usually does it), but imagine their delight if you decided to put just a little extra creepiness into your home décor and onto your dinner table this year.
A really cool pumpkin is one way to do it. The standard smiling jack-o-lantern is great, but consider taking it a step further. Carve a whole little family of pumpkins to line your walk, and use toothpicks and the bits and pieces left over from the carving to embellish your pumpkins (think ears, eyebrows, arms or warts). Look for white "ghost" pumpkins at your local farmer's market, or consider adding a squash, gourd, or any other large root vegetable to the mix. Anything that can be carved or hollowed out is fair game, even the humble little turnip.
Pumpkin carving seems to get more and more creative each year. People carve and etch everything from the family dog to portraits of their favorite celebrities into the sides of their Halloween pumpkins. As always, work carefully with the proper tools and make sure that children are safe and well supervised if they're helping out.
For inspiration, techniques, patterns, and free templates check out the following links:
Since Halloween is as much about treats as it is about the spooky stuff, we've found some fabulous ideas for ghoulishly delicious eats! Roasted pumpkin seeds are a must, of course, but have a look at these links for other yummy ideas:
Now, about all that pumpkin! Sure, you can simply compost your jack-o-lanterns once the big night is over, and this is the wisest choice if they've been on your porch long enough that they're starting to rot. But if your pumpkins are still fresh, consider cooking up the flesh and using it to make pies, soups, and other delicious and hearty fall fare. Check out Spend With Pennies for advice on the best pumpkins to cook, as well as how to bake, boil, and puree them.
Once you have your pumpkin cooked and ready to go, visit BBC Good Food for 34 delicious pumpkin recipes, and Country Living for their 60 best pumpkin recipes.
Have a deliciously spooktacular Halloween!
417806 CAN/US (10/19)