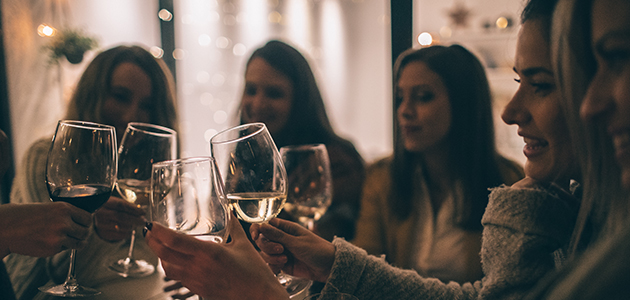 When was the last time you got together with your girlfriends to hang out, chat, and reconnect? If it's been way too long, it's time to remedy that situation right now!
According to The Tending Instinct by Shelley E. Taylor, the desire to connect with other women is actually part of a woman's DNA.1 Essentially, women are biologically programmed to build strong social ties with each other and to form close friendships. Friends give us a reason to go out and interact with others. They teach us, make us laugh, listen to our problems and triumphs, and tell us theirs. Our bonds with friends can be stronger than our bonds with family members, because friends are like family who we choose for ourselves. It's even hypothesized that good friendships and strong social networks are key to living longer, according to an Australian study about friendship.2
In the past, a "girl's night out" might have meant enjoying a few drinks and dancing until dawn. But priorities and interests change as we get older, so maybe it's time to switch it up, slow it down, and enjoy something completely different with your wonderful group of best friends.
Consider these unique and inexpensive ideas for a fun way to reconnect with your besties for a fabulous girl's night out!
Project party. If you and your friends are crafty, the odds are pretty good that each of have several half-finished projects stashed away in drawers or closets that are waiting to be completed. Have everyone bring a crafty work-in-progress to work on during the evening while you reminisce and get inspired by everyone's creativity.
Potluck snack fest. Potluck dinner parties are a lot of fun and take the pressure off the host, so why not apply the same logic to an afternoon or evening snack extravaganza? Have each person bring along their favorite snack to share with the group. Be mindful of dietary restrictions and allergies when planning your contribution. Check out Female Foodie for eleven delectable treats that are perfect for a girl's night!
Wine tasting. This is somewhat like the potluck snack fest, but with wine included if your group enjoys a tipple. Have each person bring their favorite bottle of wine along with a snack that pairs well with it. Enjoy sampling the different bottles of wine and the delicious treats. For a few tips on hosting a successful wine tasting, visit PopSugar.
80s movie pajama party. Teenage girls and sleepover parties are a match made in heaven. But who says the fun has to end when we're adults? Even if no one actually sleeps over, you can still put on your jammies and binge-watch 80s movies together. There's nothing like the movies of your youth to make you feel like a kid again, after all. For inspiration, check out Rotten Tomatoes' list of 140 essential 80s movies.
Book club. If you and your friends are avid readers, why not plan to get together and chat about the latest bestseller? This can be as casual or as formal as you like—you make the rules! Maybe you want to do it every month, or maybe just whenever the spirit moves you. The choice is yours. For some tips on how to host a great book club, visit BookRiot.
Have a spa night. A day at a spa can cost a small fortune, but with do-it-yourself spa treatments and the company of friends, it can be much more affordable and much more fun! 
Do a clothing swap. Or book swap, or record swap, or CD swap! Have each person bring a few unwanted items to your house, and let everyone pick and choose new-to-them treasures to take home. Whatever is leftover at the end of the evening can be donated to charity.
Skill swap. Maybe Kathy makes a mean chocolate cake, Donna knits up a storm, and Sandy is a whiz with a camera. Have your talented friends share their skills with each other so everyone can learn something new.
Cook or bake for those in need. Call local shelters or food banks to see if they accept homemade meals, then get together and cook up a storm! Save a little to enjoy together, then head over to drop off the fruits of your labor. If you know a mutual friend who could use some freezer meals to help her through a difficult time, that's another great way to use your time in the kitchen together. 
Volunteer with Foresters Financial™. As a Foresters Financial Member, you can apply online for a Foresters Community Grant to help you organize a charitable activity that's meaningful to you, your friends, and your local community. You could also visit MyForesters.com to see if there are any volunteer activities happening in your area that you and your friends might enjoy participating in.
Friends are such an important part of our lives, and making time to spend with them doing meaning things you all enjoy is a wonderful way to keep those connections strong and healthy. 
SOURCES
417742 CAN/US (09/19)