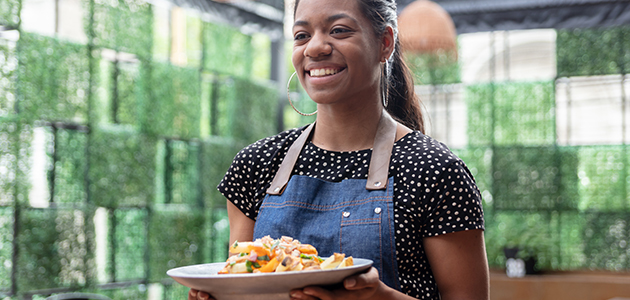 One of the coziest things to do when that first hint of chilly, fall-like weather arrives is to crack open your favorite cookbooks and look up all those soul-warming soups, stews, and hearty casseroles we love to make during the fall and winter months. The problem is that comfort food, by nature, is often rich, heavy, and not always that healthy.
As long as you aren't on a medically restricted diet, it's okay to indulge in creamy soups and cheesy casseroles every now and then (everything in moderation, after all). But there are ways to lighten up those fat and calorie-heavy recipes and make them ones you're able to enjoy much more often.
Lighten up!
Here are some simple ways to make your rich, comfort-food recipes a little healthier without losing the flavor you love:
Swap out ground beef for lean ground turkey or chicken. If you really want to stick with beef, look for extra lean. Extra lean ground beef has a maximum of 10% fat, while regular ground beef has triple that at 30%, so choosing extra lean is a great way to reduce the fat content in your recipes.1
Instead of pasta, try veggies! The next time you make lasagna or a spaghetti-noodle based dish, swap out the pasta for zucchini. It's great sliced and spiralized, and a smart way to get more vegetables into your diet. Plus spiralized zucchini is called "zoodles" and that's just fun!
Bake instead of fry. Fried chicken, onion rings, and other fried foods are delicious, but all that extra oil and fat isn't good for you. Try oven-baking foods you traditionally fry. Give them a quick spritz with cooking spray after they're breaded to help them get crisp and brown in the oven. Check out this recipe for oven-fried chicken!
Use white beans instead of cream. Cream-based soups, like chowders and cheese soups are deliciously decadent, but you can achieve that same unctuous creaminess by using cooked, pureed white beans instead of heavy cream. A cup of pureed white beans in place of each cup of cream will cut the fat and add nutrients, fiber, and protein to your dish.2 Check out CBCLife for tips on how to make your favorite cream soups dairy-free.
Use stock instead of milk or cream in your mashed potatoes. Chicken or vegetable stock lightens up mashed potatoes while still ensuring they're smooth as velvet. Choose yellow-hued potatoes like Yukon Gold to trick your eye into thinking they're more buttery than they really are. It means you can cut down on the amount of butter you add!
If it's easier for you to reference recipes that have already been adjusted to make them healthier so you don't have to do any additional work, check out Tasty for 31 versions of your favorite comfort foods, FoodieCrush for a month's worth of better-for-you comfort meals, and Delish for 39 healthy casseroles.
Bon appétit!
SOURCES
https://www.theglobeandmail.com/life/health-and-fitness/health/does-cooking-ground-beef-reduce-its-fat-content/article29941268/
417744 CAN/US (09/19)