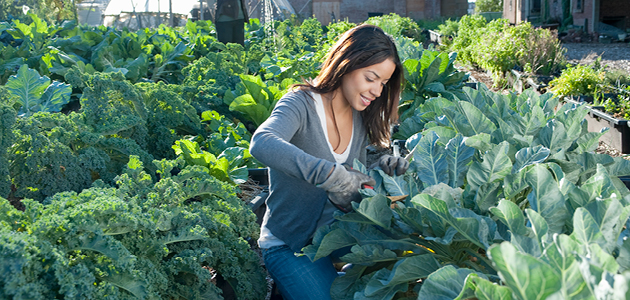 Volunteering is an amazing way to get valuable and meaningful life experience, meet new people, learn about the needs and challenges of others in your community — and help change the world while you're at it!
For some high school students, 40 hours of volunteer experience in the community is mandatory in order to graduate. And don't forget, students applying for a Foresters Competitive Scholarship must demonstrate community service hours to be eligible to win a tuition scholarship.
So what can you do to complete those volunteer hours?
Before you start, make sure to check with your school to determine what activities count toward your volunteer hours, because every school has different criteria. In addition, check what COVID-19 guidelines and restrictions your local government and health authorities have in place. Many of the ideas below can be done virtually or safely with the right precautions. Safety is a priority! Once you know the rules, it's time to get out there and do some good!
Getting started
What causes or social issues are important to you? If your family has been impacted by cancer, you might want to contact a local cancer support organization to ask about available opportunities. If you feel strongly about supporting those living in poverty, perhaps raising money for food banks, working in a local community garden or advocating for an increase in the minimum wage might be important to you. If you're a sports fan, you might try contacting a local community hockey, soccer or baseball team to see if they need help with fundraising or social media activities.
Community centers, not-for-profit organizations and charities are often looking for caring student volunteers to help out. Contact organizations like these to find out what opportunities might be available for students. There may be virtual opportunities.
Depending upon your school's criteria, you may be able to choose informal volunteer activities that benefit people or individuals who are not your family, such as shoveling snow or doing yard work for a neighbor, babysitting for free, helping seniors with their groceries or donating food to a local food bank. Just remember that you will have to have someone verify that you actually completed the volunteer work, so be prepared to ask for a name, signature and contact details.
Consider finding out if your former elementary or middle school needs volunteers to help with events, fundraising and other activities. This is a nice way to give back to a community that helped shape the person you are today.
If faith has been an important part of your life, visit your place of worship to see if they accept student volunteers to help run programs and other activities.
Ask for been there, done that advice from family and friends. People you trust and who know you may be able to offer advice about volunteer opportunities that would suit you. Because of their own life and work experiences, they may also know about areas of need that you're not aware of.
If you know a Foresters member, they may also be a good resource. Foresters provides many opportunities for its members and their families to host or attend volunteer activities in their own neighborhoods. For example, with the new Make an IMPACT benefit, eligible members who spot an immediate need can seize the moment with a one-time grant of $200 to make a difference in their local community.
Members can host a food drive, put together care kits for local shelter, clean up a park – the possibilities are endless! This grant makes it easy for members to plan an activity on their own and make a meaningful difference quickly by applying online at My Foresters.
Volunteering is an important way to develop compassion and cultivate a purpose-driven life. Even when you've reached your required goal, chances are, you'll want to make volunteering part of your life by looking for ways to use your unique talents and strengths to help those in need.
For more tips and resources to help you get your 40 hours, visit New Youth in Canada, Save the Student in the UK and Online Schools in the US.
419759 CAN/US (04/21)