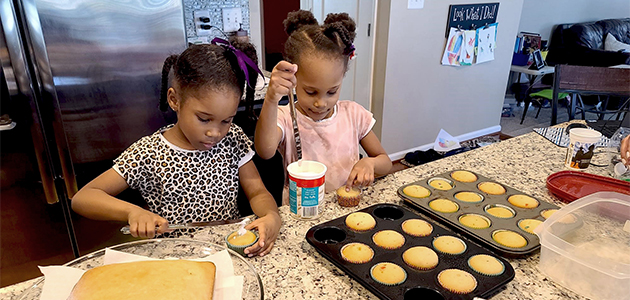 We are all aware of the war in Ukraine and the humanitarian crisis caused by the ongoing violence. When we see things like this happening and know that people are suffering, the natural urge is to want to do something—anything—to help. But it's often difficult to know what to do.
Foresters Financial™ can help.
Foresters Community Volunteer grant is a benefit that members can use in situations like these. Typically, members use grant funds to support local not-for-profit organizations or registered charities that are important to them. You might organize activities such as a food drive for a local food bank, create and deliver hygiene kits to homeless shelters, or arrange a back-to-school supply drive.
But did you know that you can also use grant funds to kick off a fundraiser?
To help the people of Ukraine, some local community groups are collecting donations like clothing, baby items and medical supplies, but there is also an urgent call to send financial donations. This allows relief organizations to send aid to those in need quickly without having to wait for shipments or spending time sorting through donated items. Financial help can also be used for relocation assistance, including transportation, lodging and airfare for those fleeing the country; as well as facilitating war-zone evacuation procedures.
Your grant in action
With the help of a Community Volunteer grant, you can organize a fundraiser like the ones suggested below to raise donation money for relief organizations who are helping those in Ukraine or in other parts of the world that require assistance:
Community bake sale. Check out Hub for a list of bake sale tips and tricks to help you plan and execute a successful and delicious fundraiser. Allrecipes also has some great tips as well as recipes for bake-sale best sellers like carrot cupcakes, whoopie pies and deep-dish brownies.
Raffle. You can host an in-person raffle with items donated by friends, family members and organizations you've contacted or host  a virtual experience with the help of an online raffle-hosting  platform that can do a lot of the organizational legwork for you. Non-Profit Quarterly also has some helpful information about donating prizes, enlisting volunteers and selling tickets. Just make sure that you check the rules and regulations for operating a raffle where you live so that you don't violate any anti-gambling laws.
Community garage sale or rummage sale. We all have stuff we no longer need or use. What better way to get rid of it than to band together with like-minded friends and neighbours to sell unwanted items? You can create a community garage sale with the intent of donating the proceeds of your sale to a good cause! Fundraiser Help has great ideas that will help you raise more funds with fewer headaches along the way.
Potluck. We all love to eat, but galas can be pricey. Why not organize a charity potluck instead? Admission to the feast is a dish of your choice plus a donation to the fundraiser, which can be a set amount or a "give what you can" option. This is a very accessible way to engage a lot of people, and it creates a sense of community while raising funds. Visit Compassionate Action for Animals to learn how they organize their annual Thanksgiving potluck.
Your Foresters grant money can help to cover the costs of a venue, any necessary rentals, advertising, supplies, prizes, or whatever else you need to get your fundraiser up and running.
To find out more about our Community Volunteer grants and to apply today, visit MyForesters.com.
Choosing a reputable charity
Promoting the charity you've chosen is important, as it helps your supporters get behind the cause and understand how their money is going to help.
But it's also critical to choose a reputable charity. Unfortunately, there are people who will take advantage of situations like the war in Ukraine to cheat others out of money. People Magazine has some suggestions for how to ensure that funds you're collecting for the people of Ukraine are going to a reputable charity that can provide the kind of urgent help that's needed right now:
A reputable charity should have a clearly articulated strategy for how they are responding to a crisis, and it should fit with the organization's mission.
Check to see if the organization you've chosen has a dedicated fund for the cause you want to support. If it doesn't, your donation could potentially go to another area the organization chooses rather than to Ukraine, if that's your intended purpose.
A relief organization that has done this kind of work before is a good option because they understand exactly what people fleeing violence need and how to get it to them.
Charity Navigator in the U.S., Blog TO in Canada and The Guardian in the U.K. can also help you make an educated decision about where to send your fundraising money.
Our commitment
Foresters stands in solidarity with all those affected by the conflict in Ukraine. To help support the immediate and ongoing relief efforts, we are donating to the Canadian Red Cross Ukraine Humanitarian Crisis Appeal and the International Committee of the Red Cross – ICRC.
420579 CAN/US (03/22)