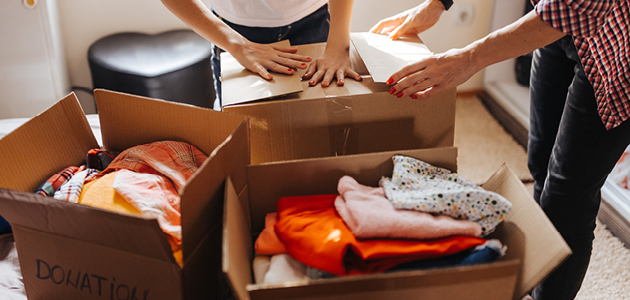 Foresters members have done incredible things over the years through our Community Volunteer and Foresters Care grants. When it comes to giving back, we love seeing our members support each other and families in need throughout their communities. Let's shine a light on some of these inspiring stories.
Families Supporting and Inspiring Families
Member Vicky Stubbins, a frequent Foresters volunteer, was approached by the Member Engagement Team for an opportunity to host an activity supporting the Vine House – a cancer support centre in Preston, UK. At first, Vicky was a little hesitant to lead an activity because it would be her first time but shared that her son Rohan had passed away and the cause meant a lot to her and her family. With the support of Foresters, Vicky submitted a Community Volunteer grant application, organised a volunteer activity and had a positive and rewarding experience.
After using her grant, Vicky decided to continue her volunteer efforts. Along with her husband Damian and daughter Yazmin, Vicky joined in on a decorating activity at the Ronald McDonald House they stayed at while her son was sick. The staff were very familiar with Vicky's family, and Damian even brought his tools along to take care of any odd jobs that the staff needed help with around the residences.
Following her experience leading an activity and volunteering with a community partner close to her heart, Vicky was so inspired she became a Branch Councillor! As a Foresters member, you can get involved in our company's democratic process. By participating in elections, you can have your say in who leads our local Branches across Canada, the US and the UK. Vicky continues to provide her leadership in our organisation and Foresters has helped her magnify her ability to make a difference.
Supporting new Ukrainian families in the community
Member Maria Lizak is an active member at her Ukrainian Catholic church in Calgary, Alberta. She used a Community Volunteer grant to partner with her church, hosting a party welcoming new Ukrainian families into the community. With the support of local Member Coordinator Carey Kress, Maria used her grant to create welcome gift bags for children, provided prizes for the kids' games and put together 60 kits for children filled with coloring books, school supplies and summer fun items like jump ropes, balloons, playdough, bubbles and both Canadian and Ukrainian treats for a taste of home.
This opportunity created such a sense of community that newcomer families exchanged contact information and signed their kids up for Saturday Ukrainian school at the church and free Ukrainian dance classes. Thanks to Maria, Carey and their group of volunteers, these families felt a renewed sense of hope despite the hardships they endured.
In Winnipeg, Manitoba, members Carole Urias and Hassan Shaik pooled their Foresters Care grant funds to provide personal hygiene items to newly arrived Ukrainian families. While shopping for the kit items at a local store, they received a 30% discount on shampoo, toothpaste, granola bars, soaps and baby wipes. Hassan also received an external donation of £200 allowing them to buy more hygiene items. When learning about the project Hassan was working on, both his employer and dentist added to his efforts by adding free toothbrushes and other items for the kits.
Carole has also coordinated the sponsorship of her own family members from Ukraine. She describes an unpredictable and harrowing process of several months that finally resulted in their safe arrival in Winnipeg this past May. Like so many dedicated Foresters members who quietly do extraordinary things for families in need of assistance, Carole embodies Foresters motto- "Helping is who we are."
Enriching Family & Community Well-being
Carole Urias also worked on a Community Volunteer activity that helped a local Winnipeg community partner, Madeline's Closet. They receive "unsellable" clothing donations from various stores to provide to needy families. Sewing and washing machines were humming as volunteers helped sort, clean, repair, and organise clothing back in September during Carole's volunteer activity.
Toni Temperton of Doncaster, South Yorkshire, has also made great use of the Foresters grants to assist struggling families. Toni volunteers at Changing Lives – an organisation that supports people from 51 ethnic groups – spanning all walks of life including refugees, those escaping domestic violence, those who are going through addiction and sex workers by caring for their children free of charge while the parents take courses in the building. With her Foresters Care grant, Toni purchased new toys and games like playdough, magna doodles and art supplies. Feeling inspired to go above and beyond after her donation, she also organised a family fun activity at the York Chocolate Story. Through the power of helping, Toni became a more active Foresters member and is motivated and determined to make her community a better place.
Foresters, our families and our communities
Foresters knows strong families build strong communities; that's why we always invest in our members and empower them to make the world better in their own unique ways. You can make a difference in your community by becoming a Foresters member and using our complimentary Community Volunteer and Foresters Care grants. We hope these stories inspired you to help give back to others in need and add to the positive change our members are already creating.