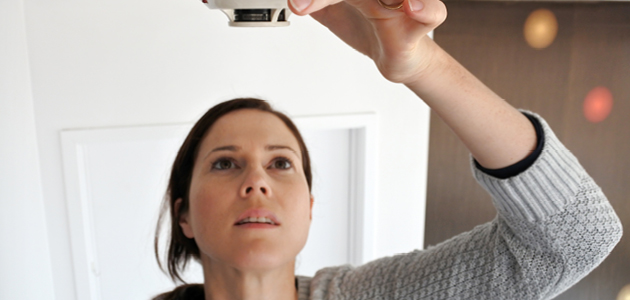 On the 8th of October, 1871, a fire started in a small barn in Chicago, Illinois. It burned for two days and ended up destroying 3.3 square miles and killing hundreds of citizens before being extinguished on the 10th of October.1 This tragic event is why the 9th of October is known as Fire Prevention Day.
Fire Prevention Week, which is always observed during the week in which the 9th of October  falls, commemorates what is now known as The Great Chicago Fire. It's a way to keep the public informed about the importance of fire prevention and safety all year long.
It's estimated that 85% of fire deaths occur in the home, so brush up on your fire prevention knowledge and make sure your home is safe and sound on 9 October.2
Fire prevention tips
Test your smoke detectors and replace their batteries, which should be done at least once a year. If you don't have smoke detectors, now is the time to buy and install them on every level of your home.
Inspect your fire extinguisher to make sure it's accessible, fully charged and operable, or buy one if you don't already own one. In fact, buy at least two so you can mount one in your kitchen and one in your garage or workshop.
Have fireplaces, chimneys and all other solid-fueled heating equipment inspected and cleaned annually by a professional.
Never leave space heaters on when you leave the room, keep them at least three feet away from anything that can burn and don't use an extension cord to plug them in.
Never leave your clothes dryer on if you're not home, and make sure to clean lint from the lint trap after every use.
If there's a fire inside your oven, keep the door closed and turn off the heat. Call the fire brigade if the fire doesn't go out immediately after taking these steps.
Never overload a socket. Only put one high-wattage appliance into each outlet at a time.
Plan an escape route and share it with your family so everyone knows how to safely evacuate your home.
Have a fire drill, especially if you have children.
Teach your children or grandchildren about fire safety and prevention.
Many fires happen at night, so carefully check your house before going to sleep to ensure that candles are blown out, appliances are turned off and everything is safe and sound.
Want to know more?
Fire Extinguisher 101 and London Fire Brigade both have thorough lists of fire prevention tips for all areas in your home.
Most people will never experience a house fire because homes and appliances are rigorously tested and built to be as safe as possible. But it's still important to make sure that you're careful in and around your home and aware of any potential fire hazards. It's also important to pass on a healthy respect for fire — and fire prevention knowledge — to the little ones you love so that everyone is always as safe as possible.
SOURCES
1 http://en.wikipedia.org/wiki/1871_Great_Chicago_Fire
2 http://www.fire-extinguisher101.com/hazards.html