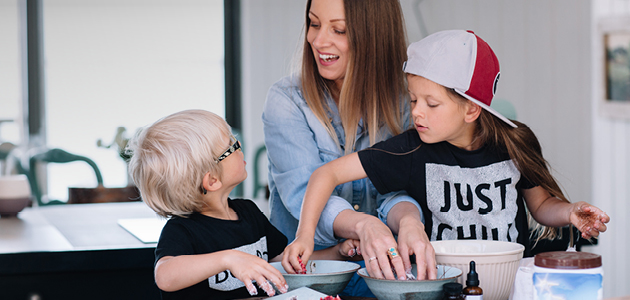 When the weather turns colder, we often find ourselves spending more time indoors. That's not necessarily a bad thing – there are lots of cozy ways to pass the time when outdoor fun isn't on the agenda. But sometimes there's a tendency for family members both young and old to sit in isolation in front of video games, computers, laptops and smartphones when they're inside. Your whole family can be together in one room, each person doing something completely different and not interacting with each other at all.
Instead, why not consider planning some unplugged fun and start encouraging the kind of family connectedness that can turn into a wonderful habit all winter long! Limiting screen time might be a challenge for some at the beginning, but making the effort to interact and enjoy each other will be well worth it in the end.
Just don't forget that you'll  model the behaviour you hope to see in younger family members, so put your phone down too. If you do decide to use it, make sure it's for an important reason, explain why and then put it away again as quickly as possible. You can always get back to scrolling when they've gone to bed – although it's good to remember that limiting screen time is healthy for adults too.
Eight ideas for unplugged fun
Have a family game night. No digital versions allowed! Drag out the old-time board games that require a dice and spinners, not screens and controllers. Visit charity shops to find some vintage games Check out Chaos and Clutter for some fun and cheap family game night ideas.
Get your bake on! Kids love baking – and everyone loves eating – so poke through grandma's old cookbook and bake some family favourites together. Not only is this a sweet way to share memories of people who may no longer be with you, but it's also a great way to get a jump on holiday baking since many cookies and bars can be frozen and enjoyed later. If you don't have access to old cookbooks, visit Taste of Home for 80 vintage cookie recipes.
Get scientific. If you have curious kids, do some research and find age-appropriate science experiments you can try together. Sites like Buzzfeed have some fascinating ideas that will appeal to kids and grown-ups!
Plan adventures. Sit down as a family and talk about the things you'd like to do together this winter. Make a big bowl of popcorn and some hot chocolate to keep your minds fuelled while you brainstorm. Writing up a list of fun things you want to do will give you lots of ideas when cabin fever strikes in a few months, plus it'll help you plan for outings that might require tickets (to a museum exhibit, for example) or special equipment (like tobogganing or ice skating).
Have a scavenger hunt. Without the aid of electronic devices, your kids will have to use dictionaries, encyclopedias and other resource books to answer any brain teasers that are part of your hunt! For great scavenger hunt ideas for kids and adults visit idtech and Woyago.
Dance, dance, dance! Clear some space , pop on something with a good beat and get everyone up on the "dance floor". Not only is this a fun way to spend time together, it's also a great way to get a little exercise and help everyone work out the stresses of the day.
Give back to your community. If you're a Foresters Financial member, sit down and talk about the organisations in your community that could use some help at this time of year and plan a Foresters Care grant activity together. Maybe you'd like to organise a food drive for a local shelter or food bank, make care kits for people who are facing the cold months without adequate housing or replenish your library with new books and other supplies. It's quick and easy to apply for the £200 grant, and the 2022 application deadline is 16th  December, so there's still time to use it for a holiday activity.
Spend time with friends and family. Foresters members can use a Foresters Moments grant to create memories and connect with friends, family and other Foresters members during this cozy time of year. Choose an activity from one of five categories (sustainable outings, educational experiences, artistic adventures, healthy high-spirits and feel-good family fun), invite 3 other people to join you and Foresters will cover up to £35 per person!  You might plan outings like a group yoga class, a drive-in movie or paint night at a pottery studio.
Family time is precious, and it just takes a little thought and creativity to make a chilly Saturday a day you and your family will always remember – without a single electronic device in sight!