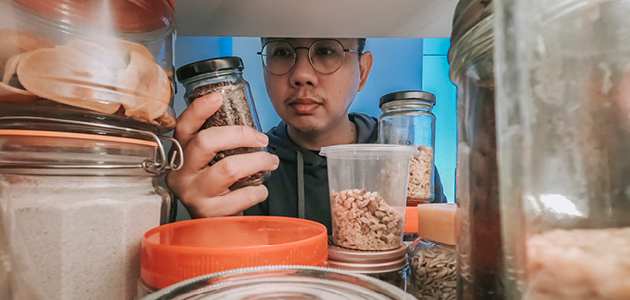 No matter what holiday you're celebrating this winter, food is almost guaranteed to play an important role in the festivities, because what we eat is so closely linked to our cultural traditions—particularly on special occasions.
This year, depending upon public health restrictions where you live, you may be choosing to safely gather with more friends and family this season than you did last year—and that probably means you'll need to buy and prepare more food than you did last year too. If you were financially impacted by the pandemic, creating Christmas meals and treats for your loved ones might seem out of the question this year, but these tips may help you feed your crowd and stay within your budget.
Don't overbuy. Always take stock of what you have before you head out to shop – particularly ingredients you don't use that often and may have forgotten that you already have. The spices, sprinkles, and molasses needed to make grandma's award-winning Christmas cookies might already be in your cupboard!
Simplify. You may think people are hoping for an elaborate, fancy meal, but a few simple and delicious traditional favourites are sure to please your guests. If you still really want to kick things up a notch, make small, economical changes like adding roasted garlic to your mashed potatoes, or putting a rich and filling side on the menu to replace something a little more costly.
Make ahead. If you have the time and freezer space, making and freezing things like pies, dinner rolls, cakes, and cookies ahead of time will save you from having to purchase all those items from a store or bakery at the last minute.
Don't make too much. We want Christmas meals to look sumptuous and plentiful, but make sure you're not making more than you really need. Leftovers are great to have—and lovely to share—but when you're working within a tight budget, your focus should be on having just enough food for the actual Christmas meal.
Load up on seasonal vegetables. Fruits and vegetables that are flown in from a distance tend to be more expensive than what's grown locally and is currently in season, so choose to put local veggies on your plate.
Get creative with your vegetables—and add lots of them. You can make an inexpensive meal look extravagant with lots of delicious vegetable dishes. Consider starting with butternut squash soup or creamy leek soup, and using the same inexpensive ingredients to make a few different dishes. For example, you could mash half your potatoes and roast the rest, or make a traditional sweet potato casserole as well as a vegetarian 3-bean sweet potato chili.
Stay within your budget. None of your loved ones want you to go into debt making a meal for them, so figure out exactly what you can afford to spend on the meal and work within that budget, even if it means your dinner is a little less extravagant this year.
Foresters members can also take advantage of MemberDeals this holiday season—and all year long. This exclusive benefit gives members access to a huge selection of discounts on products, services, and exciting experiences—including food and wine. Log in to MyForesters.com for all the details.
Remember, a meal that everyone talks about for years to come isn't just about what was on the plate—it's about who was around the table. Whatever you cook and serve with love will be more than enough and very appreciated by your grateful guests.