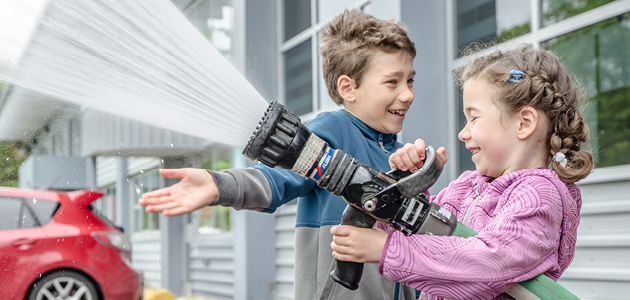 Even if going away on summer holiday isn't possible this year, you can still make wonderful summer memories for you and your children right at home. A little out-of-the-box thinking and a bit of planning is all it takes to create a staycation you will all remember for years to come.
Here are some suggestions for free or low-cost ways to entertain yourselves and your children to help you start planning for a happy, healthy summer at home!
Host a swap-shop event with family and friends. No money is exchanged—you simply swap items you no longer want for things your friends have brought. This is a great way to get new-to-you books, toys, games and even great summer clothing.
Arrange to visit a fire station. Children love fire trucks and are fascinated by firefighters. Most stations are happy to have visitors pop in and say hello, but make sure call in advance to find out if you need to book a time.
Research free events around town. Most cities and towns host free activities throughout the summer. Visit your local library, city parks and recreation centers and even museum websites to see what free activities they are organising this season. Make a family calendar and jot down all the fun things you and your family can look forward to doing together.
Visit a farm stand or farmer's market. Fresh local produce is the most delicious kind of food, so head out in search of farm-fresh ingredients and plan to cook a local feast together as a family.
Write a book together. Come up with a story using ideas from everyone in the family, then have each person illustrate a page or two. Bind it using one of these simple book binding ideas or simply staple it together and enjoy the literary masterpiece you created as a family.
Find a new playground. Hop on your bikes and ride to a different neighbourhood to explore the parks in that area. Pack a picnic and make a day of it!
Volunteer as a family. Giving back doesn't cost much, and the feeling of helping those in need is a wonderful thing to teach your children. Foresters Financial has many volunteer opportunities for members and their families who want to give back right in their own communities. Members can apply for grants that offer fun ways to spend time together, meet new people and make a meaningful difference in local communities.
Make and send cards. You could mail them off to friends and family members, or send some to local nursing homes or hospitals to help cheer residents and patients. Fiskars has some fantastic card-making inspiration to get your creative juices flowing.
Make healthy ice lollies and slushies. Pick up local fruit and enjoy some delicious homemade frozen treats.
Attend a dress rehearsal. Some theatre companies, symphonies and orchestras will allow spectators to watch dress rehearsals for free. Check out performance groups in your area to find out if this is something they offer.
If you're a Foresters Financial member, you can also take advantage of MemberDeals. This exciting benefit gives members access to deals on everyday necessities, electronics and other online shopping opportunities as well as discounts on hotels, rental cars, theme parks, attractions and much more. MemberDeals is designed to help members and their families live well, have fun and save money.
Want more inspiration? Check out these ten great and affordable at-home holiday ideas you and your family can enjoy together.