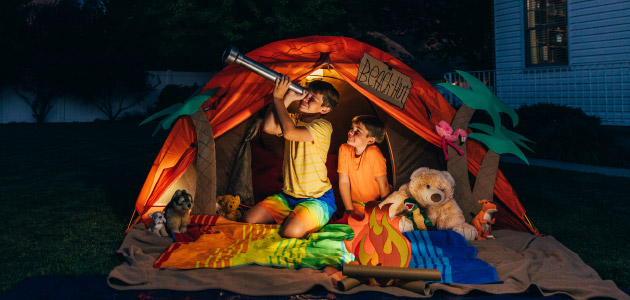 Summer is synonymous with fun thanks to its warm weather, long weekends and relaxed vibe. Make the most of your summertime with family by choosing memory-making activities that are affordable but still lots of fun for everyone.
Enjoy these wallet-friendly activities
Make and fly your own kite. You can get fancy if you want to, but a plain old garbage bag, string and sticks or dowels are all you need to make a classic diamond kite! You might want to brush up on your kite-flying skills or you can just find an open space on a breezy day and wing it!
Try geocaching. Geocaching is basically an outdoor treasure hunt using a GPS-enabled device. Players make their way to a specific area — often a park or other open public space — using a set of GPS coordinates, and then attempt to find the hidden geocache (a container) filled with whatever little treasures someone has decided to leave behind. Visit Geocaching to find coordinates for treasures hidden near you!
Plant a vegetable or flower garden. There's nothing quite like seeing — or eating — the fruits of your summer labor. If you have space in your yard or balcony, try growing some plants that are native to your area (these tend to flourish because the climate and conditions are perfect for them) or a small vegetable garden.
Plan a picnic. Eating outdoors is a feast for the senses! Whether in your backyard or in a park, laying out a spread and having lunch in the great outdoors is a wonderful and inexpensive escape from the ordinary. Pack simple sandwiches, chopped fruit and veggies and cookies, or go all out with these delicious picnic meal ideas. Remember to bring hand sanitizer to clean your hands before eating, and don't forget a trash bag so you can take your garbage home when your picnic is done.
Host your own historical walk. Do some online research and create a list of interesting sites in your city or town to visit, then head out with a picnic lunch and enjoy seeing history come to life as you walk past historical buildings and sites. If your family likes to be spooked, try researching local ghost legends and visit sites believed to be haunted.
Go stargazing. You can throw a blanket on the ground and look at the stars from your own backyard, but you might get a better view of celestial events like the Perseids meteor shower if you go to locations that are known to be great for stargazing. If you're curious about what might be visible in the night sky in your area, visit Time and Date and input your location to find out what planets you can expect to see on any given date.
Have a garage sale. If it's permitted in your neighborhood, and if your local public health department allows, it can actually be fun to gather up all of your unwanted stuff and have a garage sale or even a street sale with other members of your community. Not only will you purge junk from your home, but you'll also make a little money in the process that you can put towards another fun family activity.
Volunteer. Giving back doesn't have to cost a cent, and the feeling of helping those in need is priceless. Foresters has many volunteer opportunities for members and their families who want to safely give back right in their own communities. Members can apply for grants that offer fun ways to spend time together, meet new people and make a meaningful difference in local communities.
Make homemade ice cream. There's nothing quite like ice cream you've made yourself. Jazz it up with toppings your family loves — sliced fruit, nuts, candy, crumbled cookies and sauces — for an ice cream parlor experience that's a lot more affordable than taking your whole family out to a fancy shop.
Make seasonal wreaths. A trip to the dollar store is all it takes to get the supplies needed to make beautiful summery wreaths for your front door. Get the kids involved and have them make customized wreaths for their bedroom doors too! Woman's Day has some great inspiration for simple and charming homemade wreaths.
419945 CAN/US (06/21)