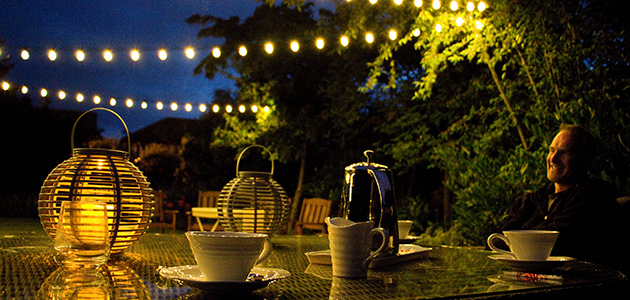 A warm summer evening when the sun is still bathing the sky in an amber glow after 9:00pm is the perfect setting for an outdoor gathering with friends and family. But not only is the setting lovely, summer also provides ample opportunity to be energy efficient when entertaining.
This might sound counterintuitive, since you probably immediately connect summer with energy-hogging air conditioners but hosting an outdoor dinner or cocktail party when the sun isn't directly overhead means you can forgo the air conditioning and use what nature gave you!
Consider these energy-efficient tips when you're planning your next summer get-together:
Avoid using oven or stovetop. Instead, serve chilled salads for an appetizer or a main, and BBQ everything else, including dessert! Check out Southern Living for some cool summer salads like crab salad with peaches and avocados, and Delish for 15 delicious desserts you can throw on the BBQ including grilled pineapple sundaes, grilled summer fruit skewers, and foil-pack s'mores roll ups!
Avoid cooking or baking during the hottest part of the day. This will only heat up your house and make your air conditioning work overtime. Try to cook or bake after sundown the night before your party – or very early in the morning – when it's likely to be cooler and you may even be able to open your windows to let some of the heat escape.
Keep things glowing without using any electricity. Use solar-powered LED lights to create a fairyland atmosphere by stringing them in your trees or across your deck or patio, or use tiki torches and candles in glass hurricane vases to light the night. Not only will you save money, but your party will also have a romantic, ethereal glow as the sun goes down.
Keep bottled and canned beverages inside a cooler. Not only will your guests have easy access to drinks that they can fetch themselves when they're thirsty, but it will also mean that your refrigerator won't be opened and closed dozens of extra times throughout the evening.
Use name tags on drinks. If you're not using recyclable cups and glasses, use nametags on glasses and stemware to reduce the number that will need to be washed at the end of the night. People do tend to wander around with drinks in their hands, and when your glass is easy to find and identify, you won't be hunting for a new one each time you put your old one down.
Be your own entertainment. Instead of hooking up a sound system, which is likely to annoy your neighbors anyway, get out the guitar (or ask someone to bring one) and have acoustic music provided by homegrown talent. If you have children in attendance, instead of relying on gadgets and electronic devices to keep them entertained, play lawn games like Giant Jenga, Lawn Twister, or Outdoor Pictionary, as found on Buzzfeed.
Summer is the perfect time to entertain, and with a few energy-wise adjustments you can enjoy your guests and your long summer nights even more!
416403C CAN/US (07/18)