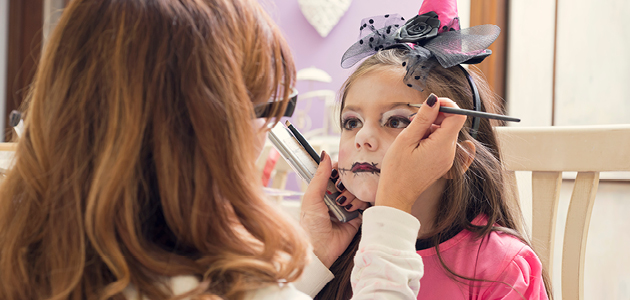 Last year, many communities opted not to encourage trick-or-treating on Halloween night to help curb the spread of COVID-19. While some parents may still decide to keep their children at home this October 31st, other kids will be out haunting the streets in search of candy.
Whether it's your child's first experience with trick-or-treating or their first Halloween-night outing since 2019, these safety tips from Safe Kids Worldwide can help ensure that everyone has a sweet night that's memorable for all the right reasons.

Tips for parents
Consider using make-up or non-toxic face paint instead of Halloween masks which can obscure vision and make it hard for kids to see cars, tripping hazards, and other obstacles.
If your child is going to be wearing a Halloween mask, encourage them to take it off while crossing the road.
Choose light-colored costumes and decorate them with reflective tape or stickers. Add a few to the trick-or-treat bags for extra visibility.
Give your children flashlights so they can see better, and be better seen by cars.
Make sure costumes aren't so long that they might cause your child to trip.
If your child is old enough to trick-or-treat without you, make sure they have a cell phone with them so they can always contact you, if need be, and include their emergency contact information (name, phone number, and address) somewhere on their clothing or on a bracelet.
If your child will be wearing a facemask to protect from COVID, don't decorate it with paint or magic markers since these can be toxic. Instead, check your favorite store for Halloween-themed cloth masks that are already decorated for you.
If your child is unwell, keep them home to avoid the risk of spreading unwanted germs—even just those from the common cold.
Always follow local public health rules where COVID-19 is concerned, including keeping yourself and your children a safe distance from others.
Reminders for kids
Always obey road signals, only cross at street corners, and always look both ways before crossing the street.
Make eye contact with drivers before crossing in front of them so you know they've seen you.
Never eat any candy until your parent or grandparent has inspected it to make sure it's safe to enjoy.
If you're old enough to trick-or-treat without a parent, make sure you know what time you're supposed to be back home, and only stay on familiar, well-lit streets.
Keep your electronic devices in your pocket so your head is always up and focused on what's in front of you.
Always watch for cars backing out of driveways or alleys.
Never dart out into the street from between parked cars.
Don't forget about keeping an eye on the neighborhood kids this Halloween too. Be extra vigilant when driving, especially between 5:30pm and 9:30pm when you can expect children to be out and about. If you're handing out candy, make sure your house is well lit and your walk is clear of anything a child might trip or slip on. Finally, keep your pets inside and away from the front door. Even well-behaved dogs and cats can get spooked.
Have a happy and safe Halloween!
420167 CAN/US (10/21)