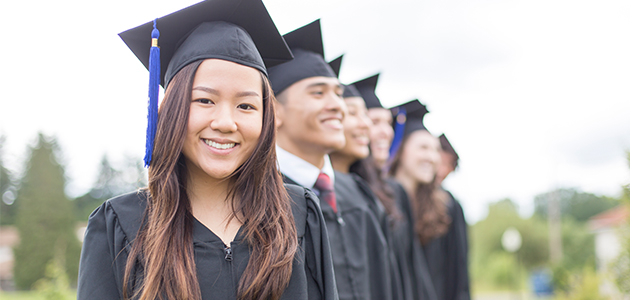 First of all, you can't win a scholarship if you don't apply for one, so cast that net far and wide. The money is there to be had; your job is to hunt for it and apply for the scholarships that you have the best shot at winning.
Scholarship Online has a comprehensive list of tips1 to help you achieve your scholarship goals. We have compiled a sample of those tips to give you a head start as you prepare to hunt for the scholarships that are, with luck, yours for the taking.
Plan ahead. Don't wait until your senior year to start looking for scholarships. Some have special requirements, like having a certain number of volunteer hours or specific required courses, that you'll need to complete in order to apply. It's best to start the hunt in your sophomore or junior year. Likewise, don't wait until the last minute to start your applications once you are in your senior year and you're ready to apply. Applications take time and thought. Rushing is a surefire way to accidentally leave out critical information, make a formatting mistake, or miss an important deadline.
Define your search. General scholarships will have greater competition because they're open to all students, while subject-specific scholarships and athletic scholarships may not. Decide which kind is right for you as your narrow your search. Consider your personal strengths, your career goals and your desired area of study.
Ask for help. Your high school guidance counselor is a great resource when you're hunting and applying for scholarships. They regularly receive updated information from colleges and universities offering scholarships, and they are familiar with the application process. Your high school can also point you in the direction of external scholarship resources.
Look locally. Just like Foresters Financial offers scholarships to children and dependents of members (as well as members themselves), many organizations offer scholarships to children of employees. Check with your mom and dad's employers to see if they offer scholarships.
Research government options. Local, federal and provincial/state governments may offer grants and scholarships depending upon financial need. They also often give scholarships to minorities and to those enrolling in workforce shortage fields like teaching, nursing, technology, math or science. Check government websites for more information.
Go big. Large Fortune 500 companies are known to offer very generous scholarships, so make sure to check those out when you're starting your search. Think Coco-Cola and Pepsi, Ford, Microsoft, Pfizer and big banks.
Keep detailed notes. Once you've narrowed down your search and chosen the scholarships you plan to apply for, keep track of application deadlines. Missing them simply isn't an option.
Read the fine print. Every scholarship application will be different. Make sure you read and understand everything that you're expected to do and provide in order to apply. The last thing you want is to get disqualified because of a clerical error or oversight on your part.
Finally, look to Foresters!
We are proud to contribute to the success that education can bring to individuals, families and communities. Each year, we offer 250 tuition scholarships up to $8,000 to eligible students pursuing post-secondary education at an accredited university, community college or trade program. Applications are now being accepted online, but only until February 28. For more information, including award details, application requirements and selection criteria, visit Foresters.com.
Good luck!
SOURCES
1 http://www.scholarshipsonline.org/
415906D CAN/US (02/18)