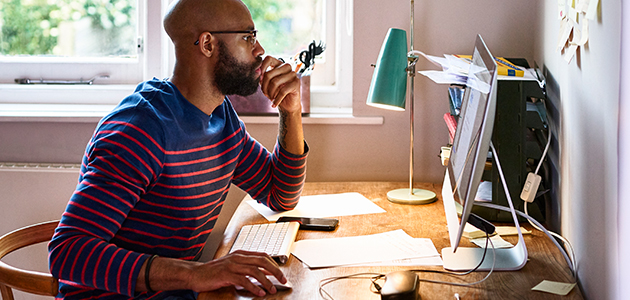 With many of us at home to minimize the spread of COVID-19, we are all having to adjust to a new normal. While it can be nice to not have to do your daily commute, working remotely can also present a few challenges. Here are some tips on how to make sure it goes smoothly.
1. Get your technology set up
Take your laptop and charger home, make sure you know what software your team will be using, and check it is all installed – Microsoft Teams, Skype, Zoom, VPN access, etc.
Be sure to use your company's VPN, so that you have the full access and experience you have in the office, with the added security. Get into the habit of leaving your VPN connected as often as possible – it's always safer to have it on.
Make sure you have the contact details for your IT support and other related manuals and resources at hand, to troubleshoot any connectivity and access issues.
Be mindful of the importance of privacy and general information security, particularly if you are in a business and role that involves customer information. If you print anything confidential, shred it or save it somewhere secure to take back to the office to shred.
2. Manage your bandwidth, and set ground rules
If your bandwidth is low and you're on a video call, shut down other programs to lighten the load on your connection. If your connection is choppy, shut off the video portion of a call and participate with audio only.
Try to keep others in the household offline when you're on a conference call or stagger your video meetings with your partner or other family members, if possible.
And where you are sharing your workspace, set broader ground rules. If you have children, be clear about what they can and cannot do. And divide up household tasks, to make sure everything doesn't fall to you – protecting your productivity, and sanity.
3. Get in the mindset
It's hard to divide home and office when you're at home. But to the extent possible, create a comfortable space that looks and feels like your office.
Try to maintain normal work hours and shut things down when you would normally leave the office.
And remember to take breathers through the day – go for a walk, break for lunch, etc. Changing your venue and staying active can help you be more productive when you're working.
Focus on the positives! You're not commuting. You're able to save money by making your own lunch. You have more control over your schedule and more time with family.
4. Stay connected
Casual chats in the office help us all feel connected. Consider alternatives to office chit-chat by scheduling online social time for these touch points that add color to our day in the office. Try video calling and webcams so you can see each other.
Also, keep up your one-on-ones with your direct manager – you'll know that you're on track, and your manager will stay in the loop on exactly what you're working on.
Make sure you have structure to virtual meetings by sharing an agenda in advance with a clear goal for the meeting. When you're on a conference call, make sure everyone has an opportunity to speak. Finish the call with a clear understanding of expectations and next steps.
5. Be realistic
Realistically assess your work-life responsibilities, in working from home. We need to be able to work as effectively from home as we do when we are in the office. If you require more direction or support to achieve performance expectations, you need to ensure you are in regular contact with your manager and ask for guidance and support.
When working from home, it is important to keep a regular schedule. This means logging on to Skype, or your equivalent corporate tool, when you would normally be in the office, for example. Be present while you're working from home.
Maintain an open dialogue with your manager.  Going remote is a new experience for many of us and it is important to be honest about what is working and what isn't, so your manager can do their best to set you up for success.
6. Plan activities for the kids
Stock up on books and puzzles, and use streaming services.
Play dates are a no-no, but you could consider virtual get togethers using video chat (bandwidth allowing!).
417949C CAN/US 04/20