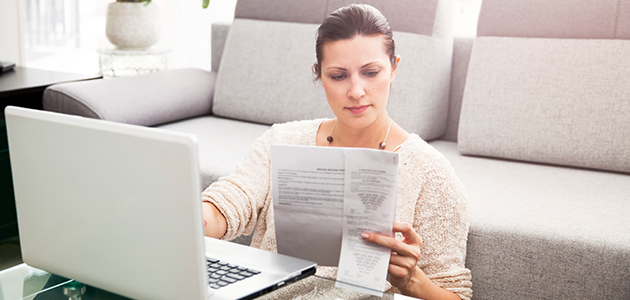 It's the least loved season of the year and it's now upon us – tax time. While we can't take the sting out of the season completely, what we can do is offer you some tips that may help make your filing go a little faster and a little smoother.
1. Time is money: Don't dawdle
Sure, it's an unpleasant task, but putting off doing your taxes and then rushing right up until the deadline means you may make mistakes or miss possible tax savings.
Do it early so you have a chance to look everything over and double check your math. Plus in addition to possibly submitting a sloppy return, if you miss the deadline and file late you may have to pay a penalty.
2. Get organized: Evaluate your personal tax system
If you've never been great at keeping track of your tax information, now is the perfect time to start. If doing your taxes seems to take way longer than you think it should, the way you're storing and organizing your information could be part of the problem.
If it is, make changes now so it'll be easier and faster for you next year. Maybe the solution is creating more folders for your different documents and receipts or to somehow improve on the ones you have. Whatever the case, take the time to get organized now while it's top of mind. You'll thank yourself next year!
3. Put everything you need in front of you
Before you put pen to paper, gather every single scrap of information you need and have it in front of you. That includes things like your SIN or Social Security number, all the tax documents from your employer and documentation of all other income, last year's tax return, all your charitable donation receipts, any loan or mortgage documents, retirement account contributions and, last but not least, your checking account information for payment or refund.1
4. Learn what you can deduct… and what you can't
Since deductions reduce the amount of your taxable income, they are a critical part of the filing process. But just as critical is knowing exactly what you can't deduct! Visit the IRS and CRA to find out more about what deductions you can claim.
5. Start filing online
It may be worth online filing a try as it can be quicker and easier. For information about filing online in the US visit the IRS and for more information about filing online in Canada visit the CRA.
Remember that as a Foresters member you have access to Everyday Money, our toll-free financial helpline that connects you to an accredited counselor who can help answer your questions about your personal financial matters such as debt management and budgeting. Visit MyForesters.com for more information and resources.
For more information about filing your income taxes in United States visit the IRS. In Canada visit the CRA.
Source
1 http://wwww.theeverygirl.com/6-tips-to-make-filing-your-taxes-easier-1040com-giveaway
Foresters Financial, their employees and life insurance representatives, do not provide, on Foresters behalf, legal or tax advice.
Description of member benefits that you may receive assumes you are a Foresters member. Foresters member benefits are non-contractual, subject to benefit specific eligibility requirements, definitions and limitations and may be changed or canceled without notice.
417947G CAN/US 03/20