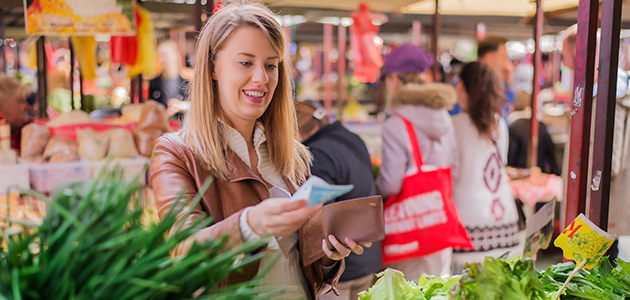 Once upon a time, cash was the only way to pay for things you needed. In the 1920s, some stores and oil companies began offering "courtesy cards" that allowed consumers to charge purchases, but those cards were only accepted by the merchants that issued them.1It wasn't until the late 1950s that credit cards, as we know them today, began to appear on the scene.
As of the end of 2017, the American Banking Association determined that there were 364 million open credit card accounts in the United States alone.2 It is now a booming industry – but it's one that comes with some risk to consumers. There is a temptation to overspend when using credit, and high interest rates can make paying off the balance a challenge. In addition, the minimum payment requirement can create a false sense of security, because paying just that amount means it takes far longer to pay off the original debt – and that you're paying a lot of interest in the process.
Credit cards certainly can be a handy way to purchase the things you need, but it's important to have a payment plan in mind so that you can pay off the entire debt as soon as possible – perhaps even when that first bill comes in.
Take the cash-only challenge!
If you are more reliant on credit and debit cards that you'd like to be – and if tracking what you spend your money on isn't something you typically do – consider challenging yourself to go cash-only for an entire month. This will allow you to think more critically about what you're purchasing, and how much you really need it. Seeing those dollars fly out of your wallet may help you think twice about parting with them.
Set up a challenge for your entire family! It will help everyone see where the money is going, and may help cut back on extraneous spending and impulse buying.
Estimate a weekly budget per person based on weekly expenditures such as transportation, food and other necessities.
Determine a fair but frugal "cash allowance" per person to spend on non-essential items. These would include treats, entertainment, and anything else that is not an absolute necessity.
Make sure everyone writes down every single thing they purchase. Give everyone a small notebook and a pen to keep on hand, as well as an envelope for receipts.
If anyone bumps into a situation where a merchant will only accept debit or credit, make sure to "give back" that same amount in cash when you get home.
See who has the most cash leftover at the end of each week, and at the end of the month.
If adjustments have to be made along the way, just take note of when and why.
Sit down at the end of the month and chat about the experience. Find out what everyone learned about how reliant they are on plastic, and how using only cash made them think more critically and prioritize their purchases to ensure that they were buying only the things they really needed and wanted.
If you haven't already done so, this is a great way to ease into creating a family budget.
If you want even more help, our Everyday Money benefit is a toll-free, personalized and confidential phone-based financial helpline that gives you access to accredited counselors who can answer your questions about day-to-day management of your money. All you have to do is call toll-free 800 444 3043 to speak with an Everyday Money counsellor.
SOURCES
1 https://www.nerdwallet.com/blog/credit-cards/history-credit-card/
2 https://www.creditcards.com/credit-card-news/ownership-statistics.php
416896 B CAN/US (02/19)