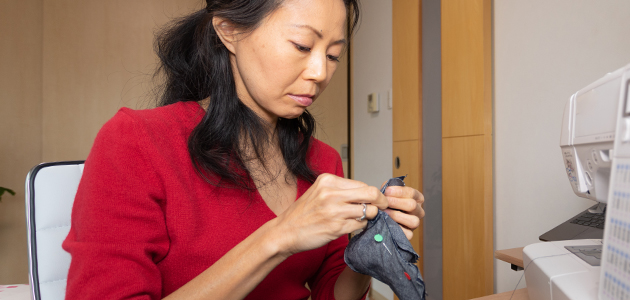 Buying new clothes is fun but it's an expensive habit. Obviously one of the best ways to spend less money on clothing is to buy it on sale. But there are less obvious ways to manage your monthly budget on clothes without sacrificing style.
Take inventory. Take every single piece of clothing out of your closet and then try each one on to determine if it still fits, and if you still need or want it. Once you're finished adding items to your donate pile, see what's left and determine what new pieces you need to add to your wardrobe. By taking stock of your clothing before you go shopping, you can avoid buying duplicate items.
Visit thrift stores. Aside from being environmentally friendly, thrift shopping is incredibly budget friendly. If possible, try visiting thrift stores in affluent areas where your odds of you finding some great, high-quality designer items increases; and always ask if your thrift store of choice has any discount days that can help you save money.
Find a good tailor. If you've lost or gained a bit of weight, a tailor can adjust your favorite pieces of clothing to ensure that they still fit properly. Similarly, a good tailor can turn thrift-store finds that don't quite fit into made-to-fit masterpieces! While this does add an extra expense, if the pieces of clothing you're having altered are good quality ones that you'll love wearing once they fit you properly, it's a worthwhile cost.
Wash your clothes less often. Most clothes are perfectly fine to wear more than once or twice before laundering. Obviously if a piece of clothing is visibly dirty or has an odor, it's time to wash it, but make sure you're getting a few wears out of items like jeans and sweaters you're wearing layered over other items. Laundering, while necessary, is hard on clothing, so washing less frequently and hanging clothes to dry (or laying flat, as required) can help extend the life of your clothes.
Use the rule of three. If you've taken inventory, you know what clothes you need. When you go to purchase those new items, try to ensure that each piece you buy works with at least three other things you already own so that you can make multiple outfits out of each new item you add to your wardrobe.
If you can't afford to donate, sell. Offering unwanted clothing to friends and family members or donating them to charity is a wonderful idea, but if you need to fund the purchase of new clothes, consider selling your best gently used items. Visit CBCLife for tips on how to sell your unwanted clothes online.
Do your own repairs. Don't toss out that ripped blouse or those slacks with the fallen hem! With just entry-level sewing skills, you can repair missing buttons, tears, holes fallen hems, and even broken zippers. Visit Martha Stewart for clever and creative ways to repair old clothing and give it new life.
For more great ways to save money on clothing, visit Lifehack.
SOURCES
1 https://www.csmonitor.com/Business/Saving-Money/2012/0510/23-ways-to-save-money-on-clothes
417957C CAN/US 08/20