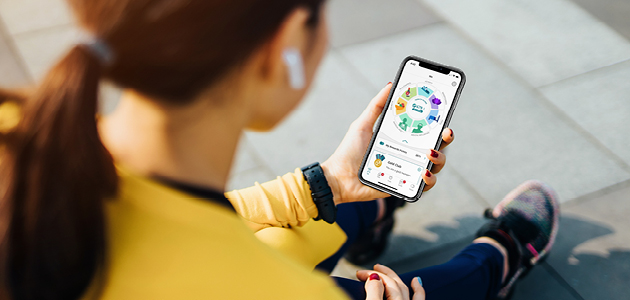 Foresters Financial has just launched the brand-new Foresters Go™ app, available exclusively to Foresters members – it's so much more than just a wellness app! Foresters Go is a fun way to keep track of your healthy habits, enrich your overall well-being, and get valuable rewards for participating in challenges designed to help you make healthy lifestyle changes and give back in your community.

How does it work?

Foresters members simply download the app and answer a few short questions to get their personal Health Score, then join motivating challenges to start earning Foresters Go Rewards Points that can be redeemed for an amazing selection of items.
Your personalized Health Score is calculated based on three components: who you are (body), how you feel (mind) and how you live (lifestyle). You'll see it move up and down in real time as you track your data including physical activity, mindfulness, nutrition, and sleep. You can raise your Health Score by eating well, increasing your tracked activity, and getting enough sleep.
A personal virtual coach called Aida provides personized, real-time feedback to help you make positive changes and improve your health and well-being. She'll ask you questions and give you lifestyle tips and recommendations you can use right away such as setting goals, reading articles, or providing updates on your personal achievements.
How can I earn rewards?
The more you engage with the app, the more opportunity you'll have to earn rewards. Rewards Points can be earned by setting goals, joining Foresters-administered challenges, tracking activities, and answering questions from Aida.

To redeem Rewards Points, visit the Foresters Go Rewards Store and check out the wide selection of items to choose from including electronics, appliances, apparel and accessories, gift cards, and more. You can even choose to donate your Rewards Points to a charity of your choosing.
Be a Foresters Go HERO!
Health, engagement, rewards, opportunities – these are what you can strive for with the help of Foresters Go. You can be a HERO for yourself, your family, and your community! Visit MyForesters.com for all the details and to download and start enjoying Foresters Go today.
420171 CAN/US (10/21)