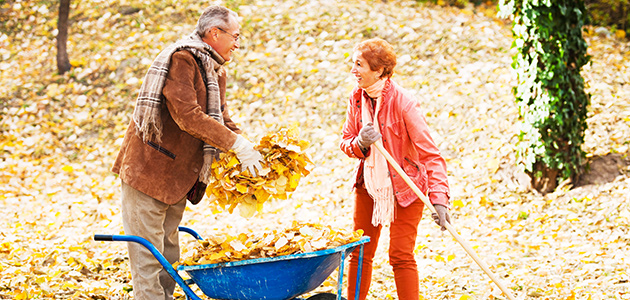 We can sometimes think of fall as the start of the hibernation season. As the cool weather moves in, it's easy to opt to stay warm and snuggly inside by the fire surrounded by family and close friends. There's certainly nothing wrong with that, but it does mean that we might have to make more of a concerted effort to get out and show some love to the community around us, which is always in need of a little TLC.
We've compiled a list of 20 simple things you can do in and for your community to make a difference this fall.
Volunteer to pick up trash. Get a group together and make an even bigger impact! Wear gloves, and bring trash bags to collect the refuse you find on streets and in local parks. Be careful if you spot potentially dangerous debris, like broken glass. If you find discarded syringes, do not pick them up. Any drug-related paraphernalia should not be handled or disposed of without the proper equipment and adequate training. Call your local authority to let them know what you've found and where it is.
Help a neighbor paint their home or spruce up their yard. There are so many outside jobs to be done before the winter, and some people don't have the time or physical ability to get it all done before the snow flies. Even an hour of your time would mean a lot to someone struggling to get their chores done.
Engage in some guerilla gardening. Beautify neglected spaces in your community by prepping gardens or planters for spring beauty. Check with your city or town first, then rake, weed, tidy and plant bulbs that will bloom in the spring.
Make cards to donate to a hospital or nursing home. Seniors and those in hospital love cheerful surprises; so gather your crafty friends and create handmade cards to donate to local facilities near you. Check out How Stuff Works for some great card-making tips and inspiration.
Lend your eyes. Volunteer to read books, provide computer assistance, and otherwise lend a hand to those who are visually impaired. Check with organizations like the CNIB in Canada, RNIB in the United Kingdom, or AFB in the United States for volunteer opportunities.
Supply the party. Bring a box of party supplies to a local women's shelter so they can host a group birthday party for all the children currently living there. Include cake and icing mixes, party hats, balloons, decorations and small party favors for each child.
Rake leaves. It's a job no one particularly likes, so surprise neighbors – especially ones who are new – by assembling a cleanup team and raking their lawns free of charge.
Adopt a grandparent. Check with a local senior home to find out if there is a resident who has few, if any, visitors. Adopt him or her. Send cards and small gifts, and call and visit as often as you can.
Check in. If you have older neighbors, or those with physical challenges, check in regularly to see if there's anything you can do to help around the house. Sometimes even seemingly small tasks like changing a ceiling light bulb can get put off for months because there's simply no one there to do it.
Remember the animals. Collect up old newspapers, towels and blankets and donate them to your local animal shelter.
Teach a skill. If there's something you're good at, be it knitting, writing, painting, woodworking or baking, why not find a community space and volunteer to teach a course? Sharing your passion with those around you is a great way to ensure that skill is carried on.
Organize a blood drive. Blood and blood products are a critical part of everyday medical care including major surgeries, medical procedures, cancer treatments and managing disease.1 Check online to find out when and where the nearest blood donor clinic is being held near you, then recruit friends and neighbors to join you as you give the gift of life.
Sponsor a family for the holidays. Check with local places of worship, shelters and other community organizations to see if there are local families in need of a little extra help this Thanksgiving, Christmas or Hanukah. If you can't do it alone, make it a group effort by enlisting friends and family members to contribute. Needs will vary, but even just putting together a box filled with items that will allow a struggling family to enjoy a special holiday meal together is a wonderful act of kindness.
Organize a makeup drive. Ask friends and family members if they have any unused beauty products that you could collect and donate to a local women's shelter. Women who flee domestic violence often leave with just the clothes on their back, so anything to make them feel special, pampered and beautiful is much appreciated. Your friends may have barely used perfume or nail polish they have decided they don't like, or products that were gifted to them that they can't or won't use.
Knit or crochet for charity. Knitters and crocheters are known to be among the most generous crafters, and there are hundreds of organizations that are happy to accept handmade items to give to those needing comfort. A quick search online will help you find the organization that's right for you. You may even find local groups that meet regularly to craft for charity.
Perform your heart out. If you sing or dance, put together a little act and take it on the road! Volunteer to visit hospitals, shelters and nursing homes to bring cheer to those who could use a boost.
Deliver groceries. If you have a neighbor who is ill, or who has trouble getting around, offer to pick up and deliver their groceries. New moms and those who have just returned home after surgery or hospitalization would also appreciate an offer like this.
Clean up graffiti. Small local businesses simply may not have enough time to deal with graffiti on the exterior walls of their stores. Offer to paint over the offending images. Bring along a crew of volunteers with you and make short work of it!
Welcome newcomers. Check online to find out if there's already an organization in your community that welcomes newcomers and join in! If there isn't, start one. There's nothing quite like a warm welcome to make you feel at home.
Volunteer with Foresters. Every year Foresters supports our members with grants to help them organize inspiring Community Volunteer activities like volunteer support, care packages, meal programs and more. As a Foresters member, you can apply for a Foresters Community Grant that allows you to plan a local activity for your family and other Foresters members, creating an exciting and very personal volunteer opportunity. Visit MyForesters.com for more information on applying for a community grant, and to find out about other Foresters volunteer opportunities right in your own neighborhood!
A strong and healthy community is created by passionate people with a strong sense of neighborhood pride who are dedicated to making their little corner of the world the very best it can be. Whether you're planning something big, or looking for small, simple ways to show your neighborhood and the people in it some love this fall, know that you will be forever changing your community for the better.
416768C US/CAN (10/18)
SOURCES