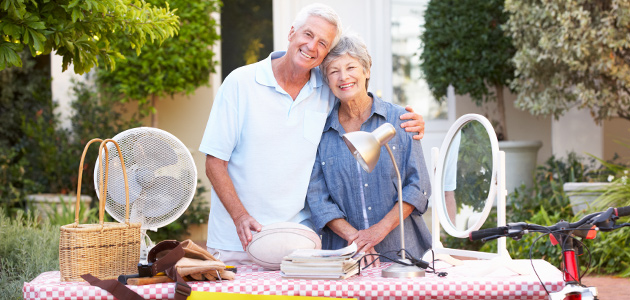 Sometimes it's hard to see what's hiding in plain sight, and that includes opportunities to save and sometimes even make money just by looking around your own home. Change your way of thinking, look at your home with fresh eyes, and see if some of these ideas can help you put – or keep – a little extra change in your wallet:
Sell your junk. The old saying is true: your trash is someone else's treasure. Go through closets as well as your attic and basement to find gently used items you no longer need or want. If the weather is still good where you live, arrange to have a garage sale, or sell your items on sites like Ebay or Craigslist. If you're meeting strangers to sell an item in person, take safety precautions like the ones Craigslist suggests here.
Look for actual treasures. While you're busy combing through your house for items to sell, be on the lookout for vintage or collectible items that could have a lot of value. If you suspect something you've found may really be worth something, do some research online before selling it to make sure you get a fair price. Check out articles like this (one from Post Bulletin to see what's currently hot in antiques and collectibles.
Rent out space. If you have an extra room or two, consider taking in a boarder. If you're in a college town or near a university, you might be able to find grad students who would happily rent out a room in your home. If you're particularly motivated, you might even consider converting your basement into a self-contained apartment. Make sure to research tax rules, insurance and your rights and responsibilities as a landlord. Read this article for more advice on renting out rooms in your home.
Sell the fruits of your labor. It's likely not going to amount to a full second income, but if you enjoy knitting, woodworking, painting or other crafty and artistic endeavors, you may be able to make some money selling the items you make online or at local craft fairs. Visit Launch Grow Joy for 30 tips on how to sell your handmade goods.
416768B US/CAN (10/18)