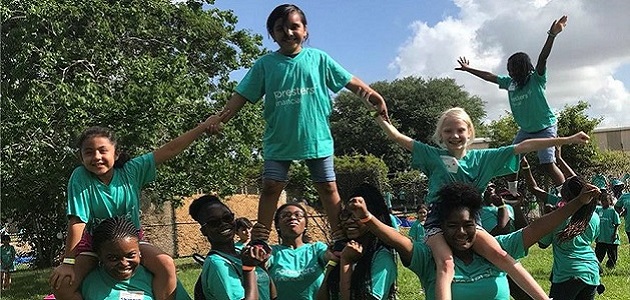 It has been decades since Foresters Financial member Robert R.'s two children attended Sammons Elementary School in Houston, Texas, but that didn't stop him from going above and beyond to try to make a difference in the lives of the children attending the school today.
Like many neighborhoods in Houston, the area surrounding Sammons Elementary was extensively flooded and sustained serious damage when Hurricane Harvey hit Texas in 2017. The school serves a larger share of high-needs students than the state average, and after the storm, many students struggled to make ends meet because of the effect the storm had on their families.
Robert decided he had to do something to help. He originally contacted the school principal to see if he could organize a Foresters event to put together backpacks for the students, but was told that what they really needed was a new playground. It was the very same playground Robert's own children played on so many years ago, and he loved the idea of being able to help bring a brand new playspace to current and future generations of students.
After contacting Foresters to find out if there was an available grant large enough to cover the construction of a new playground, Robert was told about Foresters partnership with KaBOOM!, a national, non-profit organization dedicated to ensuring that all kids get a childhood filled with the balanced and active play needed to thrive. Since 2006, together Foresters and KaBOOM! have built over 145 beautiful playspaces across 86 cities in 31 states and provinces throughout North America. By the end of 2018, Foresters Financial will have funded more than 150 playgrounds.
Robert took care of the research and paperwork, and on April 18, 2018, 119 volunteers descended upon Sammons Elementary to build a beautiful new playspace that also included nine picnic tables and benches, two soccer goals, and one outdoor classroom that the 1,135 students will be able to enjoy for years to come.
"Community service is the most fun as a member," says Robert. "It gives you a chance to make a difference in the community as well as an opportunity to meet other Foresters members – like those who united to make Houston a better city by investing their time to support education."
His kids are now 27 and 30, but the feeling of accomplishment Robert gets from seeing other kids having fun and learning on the playground that wouldn't exist were it not for his dedication and commitment to his community, still gives him a thrill every time he drives past the school.
Robert has attended and organized other Foresters charitable events including a Build-A-Bear project benefitting children dealing with serious illness and trauma, and he is also a Branch Councillor on the East Texas Branch Council.
"I have always been inspired by Foresters and their leadership," enthuses Robert. "Their commitment to community service and to the members is why I got involved, and I am always looking for new opportunities to serve."
If you want to find out more about how Foresters can help you help people in your own community just like Robert did, visit MyForesters.com.
¹Foresters member benefits are non-contractual, subject to benefit specific eligibility requirements, definitions and limitations and may be changed or cancelled without notice.
416655C CAN/US (09/18)