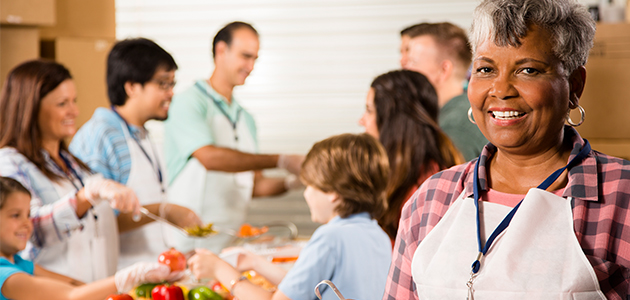 What you get out of something is directly proportional to the effort you put into it, and that's particularly true of the communities where we live. That's why it's so important to give back to your community, and to treat it – and the people in it – with as much kindness and compassion as you can.
Random Act of Kindness Week is celebrated February 11 – 17 this year, and that makes this the perfect time focus on doing random acts of kindness (RAKs) within and for your community.
What is a RAK?
The short answer is that it can be any kind deed you want it to be! You might choose to be spontaneous and simply look for any opportunity to be kind throughout your day, or you might be more deliberate in your approach and plan your RAKs ahead of time.
RAKs can be simple and quick like paying for the person in line behind you in the drive-through, holding the door for someone, or writing small messages of support on sticky notes and leaving them in public places for others to find. Or they can be bigger and more involved. The choice is yours!
If you're the planning type, it's a good idea to consider what kind of a difference you'd like to make, and where you think your community could most benefit from your efforts. Perhaps there are small, local charities that don't benefit from having large marketing budgets that could use the gift of your time or money; or maybe there's a "mom and pop" business that you could choose to support instead of a big box retailer; or perhaps there's a neglected street that needs a little sprucing up with some elbow grease and a bit of TLC. Consider getting friends and neighbors involved too, especially if you're planning a larger project that could use a few extra pair of hands.
Depending upon what RAK you're planning, Foresters Financial may be able to help you make an even bigger impact:
Supporting a local charity. Foresters Community Grants provide members with the resources and financial support needed to independently organize a volunteer event that's meaningful to your and your community. You can make care kits for a women's shelter, prepare meals for your local Ronald McDonald House, or provide food and other supplies to a food bank. The choice is yours! For more information visit MyForesters.com
Cleaning up a playground. If the weather is warm enough in your area, local parks may be starting to get busy again, and they may need a little sprucing up after a long winter. Organize a Foresters Playfinders event to help make your local playgrounds spring-ready! This program provides the resources for you, your family and the Foresters community to explore the playspaces in your area, tidy them and make sure they're mapped on the KaBOOM! Map of Play. For more information visit MyForesters.com.
Building a playground. Since our partnership began in 2006, Foresters has invested over $13 million with KaBOOM! In 2017, we helped to build 10 playgrounds with over 320 volunteers who came together to make each and every build a success. If you want to lend a hand and help Foresters and KaBOOM! bring a little magic to a community near you, visit MyForesters.com to see if there are any builds planned near you in 2018.
A strong and healthy community is created by passionate people with a strong sense of neighborhood pride who are dedicated to making their little corner of the world the very best it can be. Whether you're planning something big, or looking for small, simple ways to be extra kind this February, know that you will be forever changing your community for the better.
415906C CAN/US (02/18)