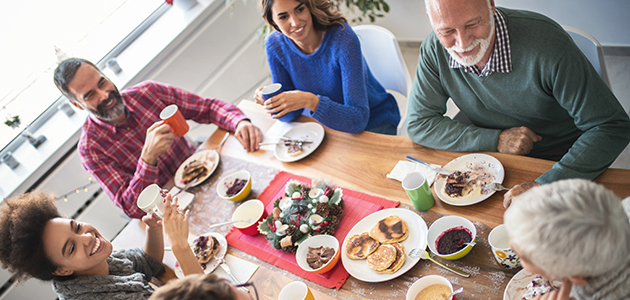 A recent Canadian grocery store commercial featured two roommates bringing the entire floor of their apartment building together by setting up tables in the hallway and inviting everyone to eat their dinner together in a communal setting. The final scene shows the group of people who were once strangers, laughing and talking together as though they were old friends.
While creating this kind of dining event may come with some logistical challenges, the idea behind it is wonderful. The need for a warm and connected community is more important now than ever before. We are a device-driven society that has become less apt to reach out and communicate with others in person. But that human connection is so important to both mental health and emotional wellbeing because it provides a sense of belonging and can bring meaning and purpose to your life.1 We are also more apt to try to understand and accept differences when we get to know people who aren't exactly like us.
Food is the great equalizer. We may all eat different things because we come from different cultural backgrounds and culinary traditions, but we all eat! So bringing people together with food is a natural way to create a more connected community around us.
How to connect your community with food
If you'd like to open up your own world and find a deeper sense of connection with the people around you, consider bringing people together with one of these food-based events:
Meet-and-greet potluck dinner. It's not only nice to get to know the people in your building or neighborhood, it can be a great way to make your community safer because when you're friends (or even just acquaintances) with the people who live around you, you can each check up on each other and keep an eye on each others' homes. A potluck dinner is a great way to meet and greet. If you live in an apartment building you can opt to use the party room. If you live in a house you could host the entire event or do a "progressive dinner" where you move from participating house to house for each successive course. This way everyone gets to host a portion of the meal.
Recipe swap. Everyone has a favorite, tried-and-true family recipe, and most people are more than willing to share it with others. Invite your neighbors over for a recipe swap event. Think about the number of people you want to invite, and when you send out your invitations ask each guest to bring at least that many copies of the recipe that they want to share. Serve simple snacks like cookies and tea, or cheese and crackers with some sparkling water. People may come as strangers, but will leave as friends – with a whole pile of new recipes to try!
Cookie swap. This idea is very similar to the recipe swap, but instead of a printed recipe, every guest brings their favorite homemade cookies to share. All you supply is your own batch of cookies and plastic containers or takeout boxes for people to put their swapped cookies in.
Communal meal. Like the commercial mentioned above, invite your neighbors to eat their evening meal with you. You're not actually sharing each other's food (unless you want to); you're simply sitting down to eat your own meals together. This is easier to do if you live in an apartment because you can take advantage of the party room, but even if you live in a house, you can set up TV trays – or even eat outside if the weather happens to cooperate wherever you are. Obviously keep safety in mind when you're inviting strangers into your home. Talk to neighbors that you know and determine how well they know those you may not. Choose a guest list based on your comfort level and knowledge of the people you're inviting. If you make it a monthly event, odds are the list of new friends will continue to grow as word spreads.
It's amazing how quickly strangers can become friends over a warm apple pie or a pot of spicy chili. If you have been feeling disconnected from the people around you and would like to make your community feel more tightknit, consider reaching out with the promise of a good meal, a sweet treat, or a well-loved recipe and watch your connections grow and strengthen.
SOURCES
1 https://headtohealth.gov.au/meaningful-life/connectedness/community
416772B CAN/US (12/18)