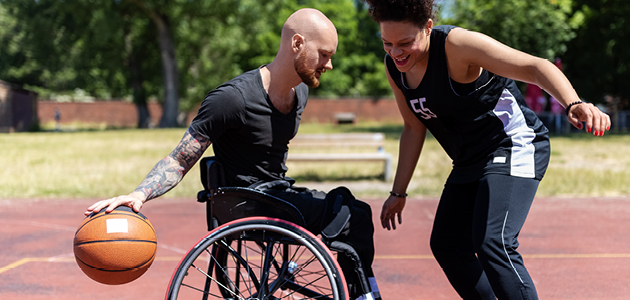 July is Disability Pride Month1, but before discussing how and why this day is celebrated, it's important to note a couple of things:
Disability can be the result of trauma or violence, so "pride" should never be forced on or expected of anyone who is disabled.
Disability Pride means different things to different people. It's important to respect each person's lived experience.
Disabilities can be both visible and invisible. The categories include mental illness, intellectual and developmental disabilities, invisible and undiagnosed disabilities, physical disabilities and sensory disabilities.2
People living with disabilities don't want to be perceived as "inspirational" when they do what able-bodied people do – or for simply existing.
According to Andrew Pulrang, a freelance writer with lifelong disabilities, "for people with disabilities, "disability pride" feels more like a declaration of unconditional pride in being disabled, embracing it, and being part of a disability community. We are proud because of who we are, and that pride doesn't depend on meeting anyone's benchmarks for how "successful" or "normal" we might appear to be. For many of us, it's also a direct encouragement to be seen and to interact fully, with our disabilities upfront and not hidden or minimized for the comfort or convenience of others or ourselves."3
It can, claims Pulrang, be an opportunity for people living with disabilities to embrace the idea of what he calls "confident visibility." Because isn't that what everyone wants – to feel comfortable and confident in the world?
What is Disability Pride Month?
AmeriDisability describes Disability Pride as, "accepting and honoring each person's uniqueness and seeing it as a natural and beautiful part of human diversity," and connects it to the larger movement for disability justice.4 The month-long celebration started in the United States in 1990 and has spread to countries around the globe.
How to celebrate Disability Pride Month
We can all engender more equity by taking actions such as:
Amplify the voices of people living with disabilities. Don't speak for them, listen to them and make sure that others have an opportunity to do the same. Look for titles like, "Disability Visibility: First-Person Stories From the Twenty-First Century" edited by Alice Wong and share these resources with others.
Push for representation. Make sure there is a place in your workplace, government and media for disabled people and their voices.
Advocate for change when you see a need. Are there still some public buildings in your neighborhood that are inaccessible? Do playgrounds only have equipment and activities for able-bodied children? Are there washrooms in public spaces that don't accommodate wheelchairs or walkers? Speak up by contacting your local government, businesses and business owners to demand action.
Learn more about ableism and how to drive positive change. Ableism is any form of discrimination in favor of non-disabled people based on the belief that typical abilities are superior. Visit Access Living to find out more about what ableism is and your role in changing it – which includes educating others.
Commit to making your communities more inclusive. Whether it's work, school or any other kind of community or organization to which you belong, make an effort to ensure that it's inclusive so that everyone feels like they belong.
For more information on how you can play an active role in making a difference during Disability Pride Month, visit NCIL for a Disability Pride toolkit and resource guide.
1 Disability Pride Month is a distinct celebration all its own and while we acknowledge that intersectionality and parallels may exist with other awareness months, Disability Pride Month was created to honor the uniqueness of people living with a disability who form a strong part of our human diversity."
SOURCES
2 https://www.afb.org/blog/entry/celebrating-disability-pride-month
3 https://www.forbes.com/sites/andrewpulrang/2021/07/15/5-questions-to-think-about-this-disabilitypridemonth/?sh=354eb1ff1417
4 https://www.verywellmind.com/understanding-disability-pride-month-5193069
420819 CAN/US (07/22)