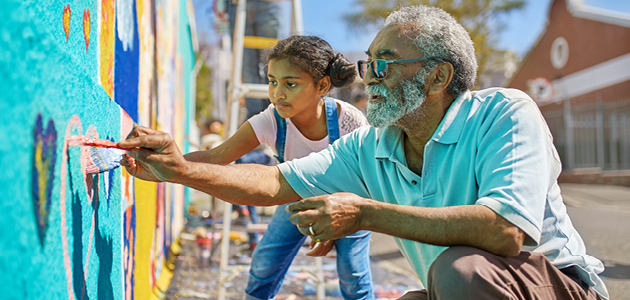 The best part about community service projects is that they can take on a range of forms, making them accessible to anybody. Whether you want to organize donations, volunteer your time, help your environment or get creative with your give-back projects, we've got 20 great ideas to get you started.
Giving back through donations
Organize a school supply donation drive in your community. Collect supplies like backpacks, notebooks, pencils, pens and more to give out to kids in your neighborhood. Doing this around late August is a great way to help parents get their kids ready for the coming school year.
Share your love of reading and create a Little Free Library. Little Free Libraries are small, weather-sealed boxes filled with books that you can put in your front yard. The idea is that people can take a book if they like, or even leave one for someone else. Donate your love of reading and inspire others to do the same.
Collect non-perishable foods from friends and family. Food banks help the community by providing food to people in need. Check in with your local food bank, see what's currently needed and start collecting your food items. Get your loved ones involved to grow your donations and help more people.
Go digital and fundraise online. If you are a little more tech-savvy and have a love for gaming, you can set up your own charity livestream. First, pick your charity and see which digital donation platform they use. Next, find your ideal streaming platform and set some donation goals. Here's a helpful article about getting your charity stream up and running on the popular streaming site, Twitch.
Donate gently used or new clothing to help the homeless. You can help the homeless in your community with a clothing donation drop-off event. First, check to see what clothing items are needed at your shelter. Next, ask for gently used or new clothing items from people in your community. Finally, create donation bins with the help of friends, family and community members, and set the day and time for the drop-offs.
Giving back by volunteering your time
Volunteer with your local nonprofits. Nonprofits are always looking for helpful volunteers to fill in important roles and increase their impact. Research a cause that means a lot to you and see which nonprofits are active in your community and what volunteer opportunities they have available.
Help seniors by teaching a class at your local library. Libraries often have community classes that help seniors learn a new skill. The best part is that these programs can be available in person or online. Check with your library and discover their volunteer teaching opportunities.
Become a virtual volunteer. If you aren't ready to help charities in person, you can still make a difference. Use your digital skills like writing, web design or accounting to help charities behind the scenes.
Start a volunteer day at your workplace. Spread your passion for giving back to others by getting your workplace into the volunteer spirit. Creating an employee volunteer day gives you and your coworkers a break from work to do some good in the community.
Give your time to animals in need. You can make a difference in the lives of animals when you volunteer at a local shelter. You could make "adopt me" signs and banners for animals looking for a home or host a crafting get-together to make toys and clothing for pets at the shelter.
Give back by keeping your community healthy
Clean up a local park. Pick a day over the weekend and head out to your local park to pick up trash and ensure the equipment is safe for use. This activity is perfect for adults and children, and it can easily become an annual event.
Help your neighbors with property repairs. If your neighbor is planning to make some updates to their home or yard, see if you can help. You can also organize a day where you and your neighbors make repairs to each other's homes and tackle projects together.
Create a community garden. Nothing breathes new life into a community like an eye-catching green space. Gather your neighbors and find a local spot that everyone can access and start planting! Look at pollinator plants in particular to help protect important insects like bees and our ecosystem.
Create a small business day in your community. You can help local small businesses by designating a day every week or month to support a local restaurant or shop. Whether it's just shopping at the business or posting great reviews online, you and your neighbors can make a difference. Create posters and place them around your community to spread the word and help keep local businesses strong.
Organize a summer reading program. Starting a summer reading program doesn't just have to be for kids; you can invite adults and seniors too. Use the summer to introduce people to great books and learn something new together.
Give back by getting creative
Making clothing for those in need. If you like to knit, you can lend a hand by knitting scarves, hats and other pieces of clothing for people living in shelters. You can also help people battling cancer and undergoing chemotherapy by creating chemo caps.
Write letters to seniors in care homes. Many seniors living in care facilities may not have family to care for them, meaning they often go without any visitors. You can change this by writing letters to seniors to help fight loneliness. Start a writing group in your community and send a letter to more seniors every month.
Volunteer your pet. If you've got a particularly friendly cat or dog, why not take him or her to a local hospital or retirement home? Your furry friend can make a huge impact and help reduce people's stress and alleviate their depression.
Organize toy basket care packages. Toy care packages are made up of used toys that are still in good condition. Gather up your kids' old toys that they aren't using anymore and put them in a basket to give to less fortunate children. Get as creative as you like with the basket design and put a smile on a child's face.
Plan a community mural. A mural is a great way to grab people's attention towards a cause. They can be in a public place in your community and inspire others to give back and support your cause. You could work with local businesses and property owners to help find a spot and get the mural process started.
Opportunities to give back with Foresters
Foresters Financial™ provides our members with Foresters Care™ and Community Volunteer grants to help people in their communities. With a Care grant, you get a one-time $200 in local currency grant that can help with things like materials for a volunteer event or park clean up. It's a small grant that can go a long way towards helping others. Community Volunteer grants offer up to $2,000 in local currency to help with larger scale projects like organizing care packages, replenishing libraries and so much more.
If you're ready to give back to your community, you can access these amazing member benefits right now to help you get started! Head over to MyForesters.com and discover your grant options.
420816 CAN/US (07/22)