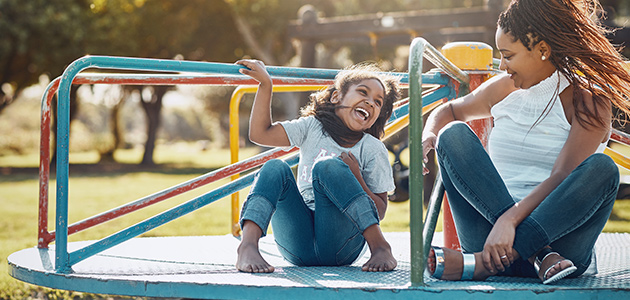 Outdoor play creates unique opportunities for children to grow and develop that can't be replicated by indoor play1. When a child is outside in an environment that's open and changing, they can experience freedom, boisterous physical movement and contact with natural elements and sunlight that contribute to bone development and a stronger immune system. Children have a right to this kind of healthy play, and that's what KaBOOM! is all about.
Foresters commitment to the well-being of our members and the communities in which they live is one of the reasons we partnered with KaBOOM!, a national non-profit organization dedicated to giving all kids – particularly those growing up in poverty – the childhood they deserve filled with balanced and active play that helps them thrive.
Since 2006, Foresters and KaBOOM! have built 144 beautiful playspaces in 36 cities across 31 states and provinces throughout North America. By the end of 2018, Foresters will have funded more than 150 playgrounds.
But we certainly didn't do it alone! Thanks to the hard work and dedication of nearly 10,000 Foresters members, we have been able to positively impact the lives of more than 5 million children by providing them with access to good, old-fashioned play. As an added bonus, those playspaces act as community hubs where parents can meet and connect with neighbors while their children have fun. Each new playground gives families a new opportunity to spend quality time together right in their own neighborhoods, playing alongside Foresters members and community partners.
An investment in a playground is an investment in family and community well-being that lasts for years to come. We have 9 playground builds planned over the next months in the following communities:
May 19, San Bernardino County, California
Jun 16, Houston, Texas
Jun 30, Chicago, Illinois
TBD, Edmonton, Alberta
TBD, Minneapolis, Minnesota
TBD, Warren, Michigan
Sep 22, Albany, New York
Oct 6, Asheville, North Carolina
TBD, Sacramento, California
When you register to help, you'll find out firsthand how fulfilling it is to join a team of volunteers and work together to build a playground in a day for a community in need. Visit MyForesters.com for more information.
SOURCES
1 https://www.sciencedirect.com/science/article/pii/S2444866416301234
416163F CAN/US (05/18)