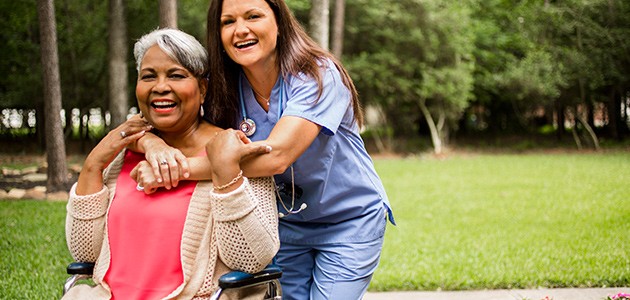 Caring friends and family members are invaluable when you're on your own and need a little extra help every now and then. But there often comes a time when you need additional resources to ensure that you can continue living safely and happily in your home.
Start by learning about the programs and services to support aging in place offered by your local and provincial, territorial or state governments. Visit their websites and search for seniors' resources and programs.
Medical and personal care
There are a number of reasons why you may need additional physical support, and that support could include things such as bathing and dressing help, wound care, foot care, vital sign monitoring, infection monitoring, catheter changing, diabetes care, rehabilitation, and drug administration. All of this can be done in your home by professionals with varying degrees of certification, from a personal care worker who is unlicensed to a registered nurse who holds a degree.
For information about finding a care provider to suit you or your aging parent's unique needs, including costs and services provided, visit sites like:
Meal and grocery services
Proper nutrition is important throughout our entire lives, but as we age it can be more challenging to make sure we're eating a healthy diet. Loss of mobility, illness and financial concerns can sometimes make buying groceries, cooking meals and eating properly a challenge.
Check to see if there are grocery delivery services like Grocery Gateway in Canada and Fresh Direct in the U.S. Ordering online and having your groceries delivered to your door can save precious time and energy.
If cooking three meals a day is too taxing for you, consider searching for services like Heart to Home Meals that deliver complete, balanced frozen meals designed specifically for seniors – even those with special dietary needs. All you have to do is simply heat and eat.
You might also prefer a volunteer-run program like Meals on Wheels that provides low cost, hot or frozen meals if it is available in your area.
If you can cook, check out resources like Good Food on a Tight Budget and Eat Right Ontario that have great information on making inexpensive, healthy meals.
Drivers
Even if you are no longer comfortable or able to drive, getting to appointments and visiting friends and family is still an important part of your life. If you don't have friends or neighbors who can step in, there are options available to you.
Housecleaning and yard maintenance
If you have a yard to maintain in the summer and a walk to shovel in the winter, do a search for senior yard or home maintenance organization in your area. There are companies like Senior Community Services in Minnesota that specialize in services for seniors, and can sometimes offer discounts based on your ability to pay.
Financial help
As a Foresters member, you have access to Everyday Money. Our toll-free financial helpline connects you to an accredited counselor who can help answer your questions about your personal financial matters such as debt management and budgeting. Visit MyForesters.com for more information.
With the right resources in place, aging at home can be a wonderful, safe and happy experience. Just remember that it's important to plan ahead so you know what services are available in your area, and you can be ready to set up all the help you need as soon as it's needed.
416163D CAN/US (05/18)