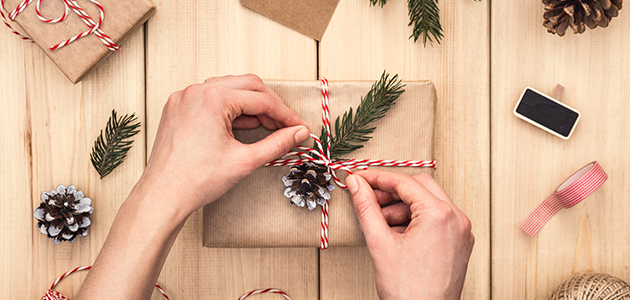 The holiday season is a time for family, food and celebrations—but it can also be a great opportunity to be environmentally conscious and to set a good example for the young people in your life.
These simple suggestions can help you keep the earth in mind during the holidays:
Wrap presents with something reusable (a fabric sack or a decorative box or container that can be repurposed), or recycle used wrapping paper or even newsprint. The comic pages are great to use for children's gifts!
Give experiences instead of things that will one day end up in a landfill, or choose eco-friendly gifts that are made using sustainable products, have minimal packaging, and can eventually be recycled.
Consider consumable gifts. Homemade cookies, or recipes-in-a-jar (jars filled with the raw ingredients for soups, bars, muffins, hot drinks, and cookies) are thoughtful and delicious gift ideas. Visit Taste of Home for 30 jar recipe ideas.
Use lower energy LED lights when you're decorating. LED lights consume 80-90% less energy than incandescent bulbs, and last a lot longer.1 As an added bonus, you'll save money on energy too! According to Small Footprint Family, LED lights can help you save an average of $50 on your energy bills during the holiday season.2
Put your indoor and outdoor lights on a timer. Even if you're using energy-efficient LED lights, you can save even more energy (and money) by putting them on a timer so they don't burn through the night.
When it comes to holiday décor, visit thrift shops for vintage decorations, and repurpose what you have by doing things like transforming old greeting cards into gift tags and tree decorations, or turning tin cans into charming luminaries.
If possible, shop from local farms (or stores that stock local meat and produce) when purchasing your holiday dinner ingredients. The closer you are to the farmer, the less cost to there is to the environment.
Use up your leftovers! Instead of tossing that turkey carcass or throwing out those veggies, turn them into delicious leftover meals.
For more great ways to have an eco-friendly holiday, visit Conserve Energy Future.
SOURCES
1 https://www.christmaslightsetc.com/pages/how-much-power.htm
2 https://www.smallfootprintfamily.com/eco-friendly-holiday-tips
417413D CAN/US (12/19)