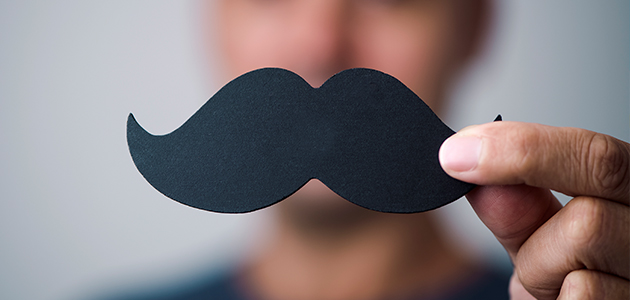 Movember: grow your 'stash for cash—and awareness
Even if you don't know much about the Movember movement, odds are you've probably noticed that by the end of November, a lot of men who normally don't sport any facial hair at all have grown thick moustaches. It's not just a fun fall fashion trend; there's whole lot more to this hairy story.
According to their website the Movember Foundation is the leading charity changing the face of men's health. Their mission is to raise awareness of prostate cancer and testicular cancer, and to focus on men's mental health and suicide prevention.
Their ultimate goal is to stop men dying too young.
Let's face it; men are not always keen on visiting the doctor at the best of times, and men are dying on average 6 years earlier than women—and for largely preventable reasons.1 Movember hopes to change this by giving men the facts they need, changing behavior, creating services that work for men, listening to the community, and advocating for men.
Best of all, this is a global initiative, and Movember makes sure funding goes where it's needed most. As the website states, "We cannot achieve our goals without building a movement with partners at all levels of government, research and civil society. This has to happen globally, with results shared across borders to extend our reach. We're creating innovative solutions, using new ideas and new technology to solve long-standing problems."2
Movember has funded more than 1,250 projects in 20 countries, from the GAP1 Global Prostate Cancer Biomarker Initiative in the United Kingdom, to cancer awareness and education events undertaken by LIVESTRONG in the United States, to the Pathways to Mental Wellness for Indigenous Boys and Men: Community-led Land-based Programs in the Canadian North.
How you can help
You don't have to be willing or even able to grow a moustache to join in and support the movement (although if that's how you'd like to raise money and awareness, click here for more information). If you want to lend a hand and show your support, you can also:
You can also help by taking care of yourself. Visit your doctor for annual check ups even when you feel just fine, make an appointment if you ever notice a change in your health that concerns you, ask about the appropriate health screenings for your age, and make sure to try to manage your stress in a healthy way.
Being proactive about your health is truly one of the best ways to help you live as long and as well as you can.
For more information about Movember:
SOURCE
1, 2 https://ca.movember.com/about/foundation
3 https://ca.movember.com/report-cards
417410C CAN/US (11/19)