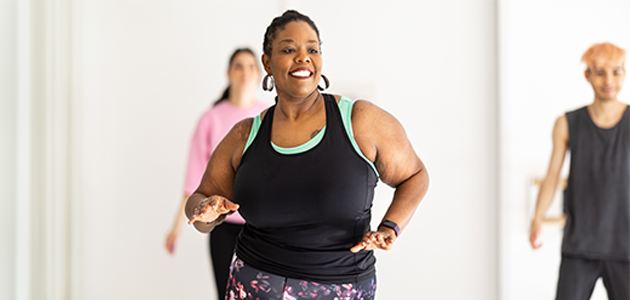 Thousands of Foresters Financial™ members are using the Foresters Go™ app every day and earning rewards for making healthy choices, giving back to their community and enjoying fun activities with family.
That's what makes Foresters Go different.
Living a healthier life while giving back to the community around you is its own reward – but an app that helps you do both of those things and lets you earn Rewards Points you can redeem for amazing things, it doesn't get any better than that!
Who is eligible to use Foresters Go?
Foresters members across Canada, the US and the UK who are 18 years or older with an active policy can download and use Foresters Go today.
How can I earn points?
Once you've signed up, earning Rewards Points is simple, fun and good for you! There are five ways to rack up points:
Tracking activities. You can track physical activities like your steps, running, cycling, swimming and yoga; but you can also track your sleep, mental well-being and mindfulness.
Making a difference. Complete a Foresters Care™ grant , host a Community Volunteer activity, lead by example as a coach or teacher or change our planet's future by making a positive impact on the environment.
Participating in challenges. Compete and chat with other members as you participate in photo challenges, activity challenges and nutrition quizzes.
Engaging with the app. Set your activity, nutrition and well-being goals; answer questions related to your lifestyle and get personalized coaching.
Completing the Wheel of Life. Earn up to $20 (in local currency) in Rewards Points when you register and complete the Wheel of Life.
In fact, there's never been a better time to start using Foresters Go because if you register by December 20, 2023, you have a chance to win $100 in Rewards Points!
What can I redeem my Rewards Points for?
The Foresters Go Rewards Store is filled with amazing things to choose from including tickets to fun events, electronics, clothing, jewelry, gift cards, appliances and more! But you can also opt to donate your Rewards Points to a charity that's meaningful to you.
Sounds great! How do I sign up?
It's easy! Just visit MyForesters Foresters Go | MyForesters to download the app and start earning points today.
Footnotes
Description of member benefits that you may receive assumes you are a Foresters member. Foresters Financial member benefits are non-contractual, subject to benefit specific eligibility requirements, definitions and limitations and may be changed or cancelled without notice.
Foresters Go is provided by The Independent Order of Foresters and is operated by dacadoo AG.
Foresters Financial, Foresters, Foresters Go and the Foresters Go logo are trade names and/or trademarks of The Independent Order of Foresters (a fraternal benefit society, 789 Don Mills Road, Toronto, ON, Canada M3C 1T9) and its subsidiaries.
422421 CAN/US (10/23)