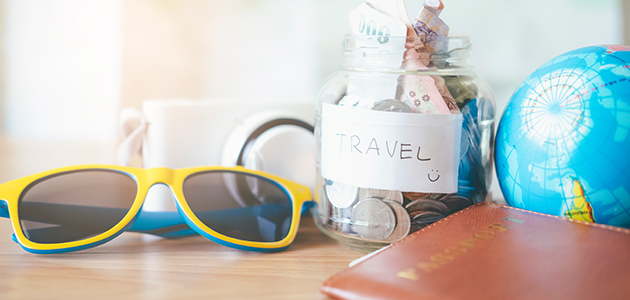 Travelling is a wonderful way to learn about different places, cultures, lifestyles, and traditions, but between transportation, lodging, and food, travel often comes with a hefty price tag.
We've compiled some tips that may help you save a little money the next time you head off into the wild blue yonder.
Comparison shop. Use sites like Trivago, which compares over 200 booking sites to help you find the best deals on hotels; and Expedia, which helps you find the best rates on flights, car rental, hotels, and all-inclusive vacations. Remember, some hotels have a "best rate guarantee" and will match rates you find online, so if you prefer to book directly with a hotel (some claim they give preferential service to clients who do), check to find the lowest online price before you give them a call.1
Travel like the locals. Once you've reached your destination, if it's safe and convenient to do so, use public transit instead of cabs and tour buses.
Fly at unpopular times. Sure, it's not that convenient, but flying the red-eye (a flight that takes off late at night and arrives early in the morning) might help you save some money. Overnight flights are also usually less full, which means you should have a quieter ride, and airports aren't typically as busy either, so check-in and security lines may be shorter. For tips on making it through a red-eye flight, visit Cheapflights.
Ask for a discount. If you're traveling with seniors or children, always ask if there are discounted rates for flights, meals, hotels, train and subway fares, and even attractions.
Travel at night. Here's another way the red-eye can work to your advantage. Taking a train or plane overnight means one less hotel room you have to pay for. If you're someone who can sleep just about anywhere, this option will come in particularly handy.
Bring food. Carry snacks and water with you when you're out and about so you don't have to drop big bucks on restaurant fare. And if you can, choose a hotel room with a kitchenette so you can prepare simple meals like breakfast and lunch in your room.
Find out what's free. Do some research on the city you're heading to and find out what festivals, events, and attractions are free of charge while you'll be there. Check out major tourist attractions to find if what deals they may offer. For example, some museums have a "pay what you can" option once a week, and discounted admission after a certain time of day.2
Pack smart. If you can, only use carry-on luggage so you don't have to pay to check your bags. This may mean you'll need access to laundry services (or a sink and some detergent) to rinse out some of your clothes during your trip, but it'll save time at the airport and money if you're willing to do so! For tips on how to pack everything in a carry-on, visit Real Simple.
Talk to the concierge. They may be able to give you access to discounts on food, tours, and day trips, and they will definitely be able to give you tips on where to find the best free sights and activities. Don't forget—they will help everyone, not just the big wigs in the presidential suites.
Bon voyage!
SOURCES
1 https://twocents.lifehacker.com/is-booking-travel-through-a-site-like-expedia-worth-it-1793278319
2 https://www.huffpost.com/entry/15-ways-to-save-money-while-traveling_b_59661c1ce4b0deab7c646cf1
417947B CAN/US 03/20