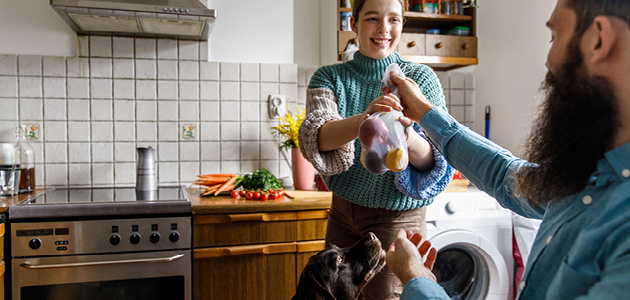 The cost of food is rising around the globe and people trying to put food on the table for their families are feeling the squeeze. In the UK, the average food bill has risen by £454 a year1. In the US, estimates suggest prices rose 10.4% between June 2021 and June 20222, while in Canada food prices went up 9.7%, possibly adding an additional $16 to the cost of the items in your grocery cart each trip3.
With inflation reaching levels not seen since the 1980s, tough choices are being made as people struggle to find clever ways to stretch their buying dollars. Unfortunately, food is often the first thing people will cut back on.
Stretching your budget
There are lots of great tips on how to eat well on a budget – even during the holidays. But sometimes what we need is to have someone to show us how and what to cook so we know what's possible on a very tight budget.
YouTube is an incredible resource when you're hunting for budget-cooking tips. There's no shortage of thrifty home cooks who are eager to show you homecooked recipes they've perfected using the most inexpensive items available at grocery and dollar stores.
While sometimes they are bare bones meals, it's still hearty, hot and nutritious food that your family can enjoy when times are tough and budgets are tighter than normal.
Cheap and cheerful playlist
Check out the following YouTubers for inspiration, recipes and tips for feeding your family for just a few dollars per serving – sometimes even less!
The Wolfe Pit. Wolfe Pit's playlist of 39, $10 budget meal recipes includes chili for $1 per serving, three-ingredient humble stew for $0.86 per serving, and a basic bean soup for just $0.34 per serving. While he admits the serving sizes he suggests may be small, the goal is to get something warm and nutritious into the hungry mouths around your table during times of struggle.
That Lisa Dawn. Lisa has struggled with food insecurity in the past and uses her channel to pass along buying and cooking tips she's learned, as well as recipes that are good for those on a very limited budget. She makes everything she can from scratch including flat bread and pasta, because it's cheaper than buying premade and often tastes better too! Check our Lisa's playlist for $10 a week meal challenges, budget-friendly holiday recipes, and dollar store buying tips.
Meals With Maria. Maria's playlist is filled with budget meals, extreme grocery budget challenges, and grocery hauls that show you don't have to spend a fortune to eat delicious meals. She makes Thanksgiving dinner for $20, has $5 dinner ideas, and even shares one challenge that saw her family of four eating for just $0.36 per meal each for seven days.
Obviously, food prices vary depending upon where you live so you may not be able to make these meals for exactly the same cost, but the videos still provide inspiration and information that can help you make the most of your grocery budget. Foresters members can also save money on everyday necessities, electronics and other products and services by taking advantage of MemberDeals.
If you're someone who doesn't have to struggle to put food on the table, there are ways you can help those who do. Donate to your local food bank and other organizations that lead the fight against hunger, volunteer with organizations that bring meals to seniors and contact your lawmakers to encourage them to pass policies that prioritize access to healthy foods.
if you're a Foresters Financial™ member, a Community Volunteer grant of up to $2,000  allows you to support a not-for-profit organization or registered charity that's doing good things for the people around you – and that could include organizing a food drive for your local food bank or soup kitchen.
Remember, if you're struggling to eat there's no shame in reaching out to resources that are there to help. Find out what government benefits might be available to you and remember that food banks can help you bridge the gap when necessary.
SOURCES
1 https://www.theguardian.com/business/2022/jul/19/average-uk-food-bill-rises-grocery-inflation-prices-cost-of-living
2 https://www.forbes.com/advisor/personal-finance/why-are-food-prices-still-rising/
3 https://www.cbc.ca/news/business/food-prices-inflation-groceries-1.6499640