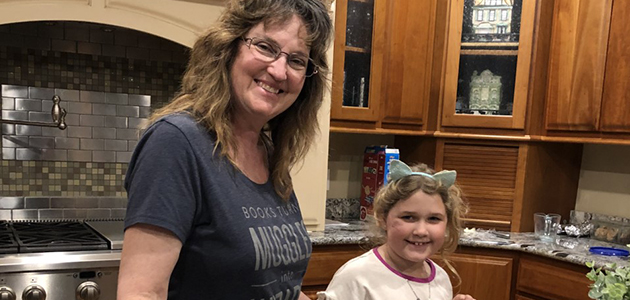 "I was brought up in a family where looking outward was just part of what we did," says Debi Nuzzi, a Foresters Branch Council President in southern Michigan. "We recognized our blessings inwardly, but in order to really truly enjoy those, we couldn't keep them inside." Those values are now a part of everyday life in her busy household.
With a husband, five kids, 10 grandchildren, three cats, three dogs and her job as a director of education in the public-school system, Debi has a lot on her plate. But when the chance to get involved with her Foresters Branch Council came up, she knew it was a perfect fit.
"When I first heard about the fraternal side of Foresters, my mind was blown," she says. "How can this be that there is a large group of people who believe the same things I do? It just made me so happy — it was like I had found my second family."
The postcard that changed my life
About five years ago, Debi checked the mail and spotted a postcard from Foresters about a local member activity. Her family had just moved to Michigan and decided to attend and bring the grandkids. "That was it, folks," she says. "That changed my life."
From that day forward, Debi and her family applied for grants, organized volunteer activities, applied for (and won!) scholarships and tried the other well-being benefits that Foresters membership offers. Eventually, she nominated herself for Branch Council and later became President of her Branch.
Debi's mind is always whirring with ways she can connect Foresters with the needs in her community. "We look for ways to volunteer outside of Foresters as well," she says. "But the nice thing is when those two entities can mesh. It's this synergy, so instead of one plus one equaling two, one plus one can equal three or five. Great things can happen!"
Whether it's community Easter egg hunts, delivering groceries for seniors or getting the kids involved with Foresters camping trips, Debi's family truly lives with purpose — enriching families and building a stronger community.
Creating a ripple effect
In her director role with the public-school system, Debi led a plan to introduce a service-learning program in a local school. The program aimed to get kids into their communities and working at food banks, preschools and more. But when the COVID-19 pandemic hit, many of the volunteering plans had to be put on hold. The teachers and students brainstormed ideas and a student suggested supporting National Period Day by helping girls gain access to feminine products.
"There went the light bulb!" says Debi. "Here's Foresters with the opportunity to write a grant." Debi applied for and received a Community Volunteer grant, and the school was able to provide about 5,000 zippered pencil cases with period products for girls who do not have access to these essentials. The activity hit the news and a local organization jumped on board as well, donating money to supply schools with more products so girls can restock as needed. "It's like a pebble in a pond," says Debi. "You drop a pebble and you see ripple after ripple after ripple."
Get involved
Asked about her experience with her Branch Council, Debi lights up. "When I found out what Foresters was about, it was like fireworks went off," she says. "It's not very often that you can find an organization that meshes so well with you and who you are."
Debi wants to spread the word and encourage others to get involved. "Every person has strengths, and you have no idea what you can do with those strengths unless you put them to use," she says. She wants people to know that when you join a Foresters Branch Council, you gain a community. "It's a small community — the kind where if somebody's sick, people are calling to check in on you." There's also the annual Leadership Development Conference, which she found to be a fun and valuable experience. "You get a voice on your Council. You get a voice in Foresters. You can give your community a voice."
There are needs in every area. "No matter where you live, how affluent or socioeconomically disadvantaged your community may be, if you look around and be curious, you will find the needs in yours," she says.
Debi bought life insurance with Foresters about twenty years ago. "The crazy thing about it is that I bought Foresters because it was a good life insurance policy. Period," she laughs. But then she discovered member benefits, got involved with her local Branch Council and combined her giving spirit with Foresters purpose. That's when the fireworks went off.
If you are a Foresters member, you can nominate yourself for a position on your local Branch Council. To learn more about member leadership at Foresters, visit MyForesters.com.
Foresters Financial member benefits are non-contractual, subject to benefit specific eligibility requirements, definitions and limitations and may be changed or cancelled without notice.
US/CA419714 CAN/US (03/21)