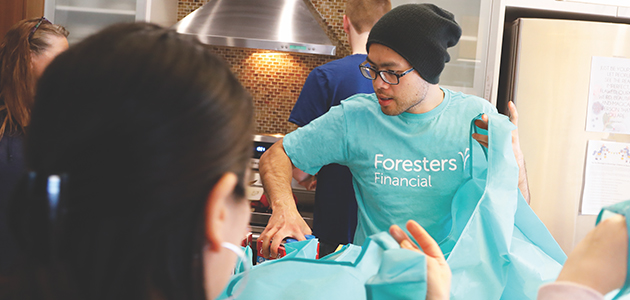 Make sure to keep checking your mailbox, because your 2018 Foresters Report will be arriving soon! In addition to providing you with an overview of our financial strength including our annual sales figures, funds under management, and financial reserve, we'll be sharing details about how we invest in you, our members, with our scholarships, grants, and well-being benefits.
The annual report is how we celebrate and share our recent accomplishments, but it also highlights the way members, agents, and employees are getting involved, giving back, and taking on leadership roles.
Among other stories, you'll read about Carys, a member from Newport Gwent, UK who took advantage of a Foresters Community Grant so she could organize a comfort kit event in honor of her brother. You'll learn about Nicole, our Global Chief Membership Officer, who took her team to an emergency shelter for homeless youth in Toronto to cook meals. And we'll tell you about Ricky, a new Branch Councillor who has embraced a commitment to giving back to his community through Foresters volunteer opportunities.
Helping is who we are, and in the 2018 Foresters Report you'll see the many ways we've improved family and community well-being with your help.
For more information, and to read the annual report, visit Foresters.com.
417026A CAN/US (05/19)